.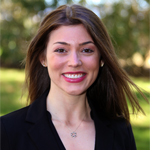 Even Rocks Can Crack
by Cantor Emma Lutz
This past weekend, two massive earthquakes rocked Southern California. As my husband and I clutched hands in the doorway of our kitchen—normally a space of comfort and nourishment—we felt shaken, unsettled, wobbly, anxious. While we were lucky that the quake was far enough from our home that no damage occurred, I later read that many homes in the Mojave Desert shifted up to six feet from their sturdy cement foundations. Even rocks can crack.
READ MORE
Rabbi Yoshi Interviews Co-founders of Save the Syrian Children in Newest Podcast
In his latest podcast, Rabbi Yoshi speaks with Tamar and Phil Koosed, co-founders of Save the Syrian Children, an organization that collects and ships desperately-needed medical supplies and clothing to refugees of the violence in Syria. Tune in to hear them discuss their mission and what drives them to make meaningful change in the world. 
In case you missed it, last week Rabbi Yoshi talked with Pulitzer Prize-winning playwright Paula Vogel, author of Indecent, which recently completed its run at the Ahmanson Theatre in Los Angeles. In a fascinating and wide-ranging discussion, Paula and Yoshi explore her Jewish identity and the process behind bringing the untold story behind Sholem Asch's God of Vengeance to the stage.
Be sure to subscribe on Apple, Spotify, Google, or wherever you listen to your podcasts so you never miss an episode!
LISTEN AND SUBSCRIBE HERE
---
Adult March of the Living Trip with Rabbi Yoshi Zweiback and Rabbi Ron Stern
INFO SESSION: August 22 | 7:30 p.m. 
In April 2020, join Rabbi Yoshi Zweiback and Rabbi Ron Stern on the most iconic and unforgettable walk through the darkest time in Jewish history by participating in the Adult March of the Living. The group will visit some of the deeply significant locales in Poland including Krakow and Warsaw as well as the concentration camps in the vicinity and will encounter the amazing resurgence of Jewish life in Poland. Finally, the group will join thousands of high school students from across the globe in making an epic trek of freedom out of Auschwitz concentration camp. Afterwards there, will be an optional add-on visit to Israel highlighting those experiences rarely available on standard tours: cultural experiences, regional tours, and complex political conversations.
CLICK HERE TO BOOK YOUR SPOT NOW
RSVP FOR INFO SESSION
This Week's Torah Portion: Chukat
Friday, July 12
6:15 p.m. | Shabbat Services | Geldin Chapel
Led by Rabbi Sari Laufer, Cantor Emma Lutz, and Cantorial Intern Sara Anderson
Watch live on Friday night: Facebook | WiseLA.org
Saturday, July 13
9 a.m. | Lay-led Torah Study | Chapel Study
10 a.m. | Shabbat Morning Services | Plotkin Chapel
Led by Rabbi Sari Laufer and Cantorial Intern Sara Anderson
Monday, July 15
9 a.m. | Bible Study with Rabbi Ron Stern | Conference Room
Wednesday, July 17
12 p.m. | Talmud Study with Rabbi Sari Laufer | Udko Annex
Friday, July 19
6:15 p.m. | Shabbat Services | Geldin Chapel
Led by Rabbi Josh Knobel and Cantor Emma Lutz
Saturday, July 20
9 a.m. | Lay-led Torah Study | Chapel Study
10 a.m. | Shabbat Morning Services | Plotkin Chapel
Led by Rabbi Ron Stern and Cantor Emma Lutz
#TBT to a few Thursdays ago when Cantor Nathan Lam helped the Israeli Ambassador to the Holy See celebrate 25 years of diplomatic relations between Israel and the Vatican. This incredible concert was organized by Cantor Lam and featured him in performance alongside some of the most incredible voices and composers of Jewish music in the world.
WATCH VIDEO 
VIEW PHOTOS
---
Homes for Heroes: Provide New Queen Sheet Sets for Vets
Our partners at Veterans Affairs are in high need for new sheet sets for our vets moving into new permanent housing! Wise members know how much of an impact these donations have: our Homes for Heroes volunteers do so much to provide new furniture, bedding, appliances, and amenities to formerly homeless vets. This week, we are calling on all Wise community members to pick up new queen sheet sets to donate. We are also seeking full or queen pillow sets! Please bring your donations to Shabbat services on Friday evening or drop off at the Wise administrative offices this week or next. Our vets served us with distinction – now is our chance to serve them in deep gratitude.
DONATE NOW
LEARN MORE ABOUT HOMES FOR HEROES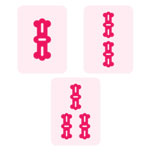 Wise Women presents
Mahj and More
Wednesdays, August 7 | 1 p.m. | Udko Annex
Wise members and guests are invited to join other Wise Women for our monthly open play day: Mah Jongg, Canasta, Bridge, or any other game you'd like! Groups or single players and all levels (beginners to experts) are welcome and encouraged! If you have a Mah Jongg set, please bring it along. Snacks and light refreshments will be served. While this is a free event, we kindly ask for your RSVP.
AUGUST 7
*Mahj and More will return after High Holy Days in November as a bi-monthly occurrence. 
---
Shabbat by the Shore
with Rabbi Yoshi Zweiback and Cantor Emma Lutz
Friday, August 9 | 6:30 p.m. | Crescent Bay Park, Santa Monica
Our seaside service has become a beloved summer tradition, bringing together friends from all over Los Angeles for a sunset Shabbat full of meaningful prayer and uplifting music. As always, arrive early to stake out a spot for your blanket and picnic "pre-neg" and be sure to pack your frisbees and beach balls for an after-service hangout!
---
Tisha B'Av
Saturday, August 10 | 7 p.m.
Join us for an observance of Tisha B'Av unique to Los Angeles in 2019 as we connect our ancient texts with the blight of homelessness now facing our community. In coordination with the Religious Action Center of California, Temple Kol Ami, Temple Israel of Hollywood, Temple Beth Hillel, Kol Tikvah, and Beth Shir Shalom, we will gather to recall our people's history of displacement and reflect on its continuing imperative to end the homelessness of others.
RSVP HERE 
---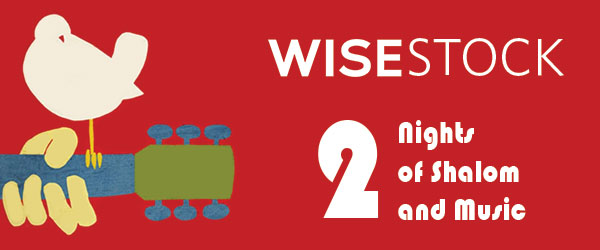 WiseStock: Two Nights of Shalom and Music
Thursday, August 15 | 6 p.m. | Beverly Cañon Gardens
Friday, August 16 | 6:15 p.m. | Wise Campus
Celebrate Woodstock's 50th anniversary with two extraordinary summer nights of shalom, ahavah, and music. Wise clergy, musicians, singers, and special guests will lead a singalong with Mayor John Mirisch in Beverly Hills' beautiful Cañon Gardens on Thursday evening. On Friday night, we will celebrate a Shabbat service inspired by music from Woodstock. Featuring hits by beloved artists that performed at Woodstock in the glorious summer of '69, this two-night celebration will bring all of our voices together to offer more peace, love, and music into the world.
---
Lunch Bunch: Caring for the Stranger
Tuesday, August 20 | 5 p.m.
Help our Lunch Bunch care for the stranger by assembling lunches for residents at LA Family Housing's Valley Shelter. 
REGISTER HERE
---
American Friends of the Israel Philharmonic Orchestra present
Young Patrons Circle: An Evening at the Hollywood Bowl
Thursday, July 18 | 6:30 p.m.
Rock star pianist Khatia Buniatishvili, conductor Gustavo Dudamel, and the Los Angeles Philharmonic will play iconic music from Hollywood's Golden Age and Rachmaninoff's Piano Concerto No. 3.
BUY TICKETS
We remember with love those who died in recent days and weeks:
Harriet Belasco, Sandra Cohen, Barry Gordon, Victoria Sunshine, Stan Tendler, Amir Yadidi
We observe the yahrzeits of:
Gertrude Aronoff, Harriet May Baumann*, Edward Berger, Gertrude Berman*, Esther Bienenfeld*, Kesel Bilenky*, Meyer Blatt*, Yetta Bloomgarden*, Freda Brooks*, Anna Buchalter*, Joseph Canter, Hilda Clark*, Sidney Elliott*, Ilse Erlanger*, Philip Federgreen*, Arthur File*, Bernard I. Fisher*, Myron M. Frazin*, Julius Freedman*, Samuel Galanter*, Fay Gordon*, Helen R. Gordon*, Hans Heiman, Lee Hessel*, Shoshanna Kleiman, Pearl Kosoff*, Leo Labarsky*, Louis Lepp*, Carl R. Levin*, Fanny Magasinn*, Elliot Markoff*, Elliott Marks*, Esther Masser*, Edwin May, Phillip L. Miller, M.D.*, Beatrice C. Milman*, Harold Moore*, Gertrude Newman Oliensis*, Morris Picker*, Carl Reisman, James Roth, Fred Rothman*, Cecelia Rothman*, Louis Samuels, Milton Stone*, Joseph Strahl*, Eugene Teicher*, Sadie Waldinger*
*Designated on our memorial walls
We reach out as a community and offer our support and deepest sympathy:
Randi Sunshine and Daniel Sherkow on the loss of Randi's mother Victoria Sunshine.
Kambiz and Jennifer Yadidi on the loss of Kambiz' father Amir Yadidi.
Irene and David Smith on the birth of their grandchild Julian Shay Dintzer to proud parents Alana and Jonathan Dintzer.
If you have a birth, wedding, or milestone birthday you would like to share with the Wise community, please email us at EyesOnWise@WiseLA.org.
To schedule a Shabbat blessing or special reception in honor of a simcha, contact Arlene Spiegelman at 310.889.2272.
We honor our loved ones, our family simchas, and our communal losses through charitable giving. To give in honor or in memory of a cherished family member or dear friend, please visit WiseLA.org/Giving.
 
RABBI YOSHI ZWEIBACK DISCRETIONARY FUND
IN MEMORY OF:
Carl Levin, by Nancy Levin and Family
Joseph Canter, by Eli and Arlene Chernow
ON BEHALF OF:
Aiden Mertzel, by Jeff and Iris Mertzel
RABBI DAVID WOZNICA DISCRETIONARY FUND
IN MEMORY OF:
Ronald Kaizer, by Marvin and Irene Perer
RABBI RON STERN DISCRETIONARY FUND
IN MEMORY OF:
James Roth, by Selma Kurtzman
CANTOR NATE LAM DISCRETIONARY FUND
IN MEMORY OF:
Esther Bienenfeld, by Bob Bienenfeld
CANTOR EMMA LUTZ DISCRETIONARY FUND
IN MEMORY OF:
Harriet Belasco, by Mel Belasco
ANNUAL CAMPAIGN
IN MEMORY OF:
Carl Reisman, by Shirley Reisman & Children 
AVI EFRAIM GESUNDHEIT FUND FOR MUSIC
IN HONOR OF:
Annette Shapiro, by Lori and Rob Goodman
MAX HESS EARLY CHILDHOOD LIBRARY FUND
IN MEMORY OF:
Hans Heiman, by The Kriegsman Family
IN HONOR OF:
The Wise School class of 2009, by Joyce and Kevin Anderson
METUKA BENJAMIN SCHOLARSHIP FUND
IN MEMORY OF:
Edward Berger, by Micbhele Zwillinger and Berger Family
Harriet Belasco, by Michele Zwillinger
SOCIAL ACTION FUND
MAZAL TOV:
To Linda and Barry Baum, on the birth of their granddaughter, Sunny Rose, by Lori and Rob Goodman and Family
SOCIAL JUSTICE FUND
IN MEMORY OF:
Sadie Waldinger, by Art and Gloria Waldinger
WISE SCHOOL GENERATIONS ENDOWMENT
IN MEMORY OF:
Victoria Sunshine, by Janine and Richard Kolodny
Victoria Sunshine, by Joyce and Kevin Anderson
MAZAL TOV:
To Alana and Jonathan Dintzer on the birth of their son, with love from Janine and Rick Kolodny
To Irene and David Smith on the birth of their grandson, with love from Janine and Rick Kolodny
To Penny and Mark Berns on the birth of their grandson, Chase Preston Cohen, by Joyce and Kevin Anderson
YAHRZEIT FUND
IN MEMORY OF:
Shoshanna Kleiman, by Shirley Kleiman

We appreciate our wonderful volunteers:
Nosh Volunteer:
Susan Firestone

Stephen Wise Temple | 15500 Stephen S. Wise Drive | Los Angeles, CA 90077
Shabbat Shalom