Finding God on the 405
by Rabbi Sari Laufer
In memory of Rabbi Richard Levy z"l (1937-2019)
In rabbinic school, I took a class called Spiritual Approaches to an Ordinary Day; we affectionately called it: Finding God on the 405. Each day, Rabbi Richard Levy would greet us with his traditional: Hello, lovely people…and then encourage us to find moments of transcendence in our everyday lives. He encouraged us to blend traditional Jewish practices into the minutiae of daily living in Los Angeles, and indeed—find spiritual moments in traffic. It's easy, he said, just look up. Just look around. The world is full of blessings, and potential.
READ MORE
Wise Readers to Leaders Celebrates Milestone Dedication
by Rabbi Ron Stern
Though a part of Wise for more than seven years, Wise Readers to Leaders never had a formal and permanent monument establishing its existence until this week. With the installation and dedication of a plaque declaring the Wise Readers to Leaders Cayton Readers Summer Literacy Program, we've firmly stated publicly that Stephen Wise Temple will always be the home of one of Los Angeles' finest summer literacy programs for underserved LAUSD scholars. From our first summer with seven staff and 50 kids our program has now grown to 50 staff and 450 summer scholars! Over 100 high school students volunteer each summer and now we are beginning an adult mentorship program to coach our program graduates into colleges. Through CEO Andrea Sonnenberg's tireless volunteerism, the money is raised, the staff is hired, the logistics are handled so that our six campuses serving over five LAUSD elementary schools (as well as several middle schools) are able to provide our scholars with an enrichment program like no other in the city. In the early days we contracted with the Children's Defense Fund for a curriculum, now we've grown so much that we write our own as an independent organization. Truly an amazing undertaking and something about which the entire Wise community can be tremendously proud! Thanks to the Cayton family for their generous gift, for Andrea Sonnenberg for her tireless championing of the program, and to the Wise community for providing ample resources to ensure success!
DONATE TO WISE READERS TO LEADERS
BECOME A VOLUNTEER THIS SUMMER
Rabbi Yoshi Participates in Ride for the Living
This week, Rabbi Yoshi Zweiback is in Krakow for Ride For The Living, a four-day event that gives riders a chance to immerse themselves in Krakow's Jewish past, present, and future. This includes a full program of activities, including a guided tour of Auschwitz, tours of Krakow, participation in the largest Shabbat dinner in post-war Krakow, and an inspiring one-day, 60-mile (97 km) bike ride from Auschwitz-Birkenau to JCC Krakow. This all takes place during the Jewish Culture Festival, which welcomes over 30,000 people and offers around 300 events each year.
Through his participation, Rabbi Yoshi is raising money to support Friends of JCC Krakow. Learn how you can help support him during his ride!
SUPPORT RABBI YOSHI HERE
FOLLOW RABBI YOSHI ON FACEBOOK
Outdoor Summer Shabbat Services Are Back!
The summer months mean a return to our beautiful outdoor spaces for Shabbat services! This Friday we will celebrate in beautiful Geldin Chapel as we welcome Shabbat together against an inspiring backdrop. Remember to bring a sweater or jacket as temperatures and wind may change after sunset. Of course, should we experience a heat advisory or if we expect inclement weather, services will move back indoors – we'll keep the schedule posted in Eyes On Wise every week, so watch this space for info.
This Week's Torah Portion:
Sh'lah-L'cha
Friday, June 28
6:15 p.m. | Shabbat Services | Geldin Chapel
Led by Rabbi David Woznica and Cantorial Intern Sara Anderson
Rabbi Woznica's sermon topic: A Mysterious and Indispensable Trait Revealed
Watch live on Friday night: Facebook | WiseLA.org
Saturday, June 29
9 a.m. | Lay-led Torah Study | Chapel Study
10 a.m. | Shabbat Morning Services | Plotkin Chapel
Led by Rabbi Ron Stern and Cantorial Intern Sara Anderson
Next Week
Friday, July 5
6:15 p.m. | Shabbat Services | Geldin Chapel
Led by Rabbi Ron Stern and Cantor Emma Lutz 
Saturday, July 6
9 a.m. | Shabbat Morning Services
Led by Rabbi Josh Knobel and Cantorial Intern Sara Anderson
Please note: We will not hold Saturday morning services on the Wise campus but rather at a private home in Beverly Hills. Enjoy a backyard service and potluck lunch with friends from your Wise community!
RSVP HERE
Learning Opportunities with Clergy
Talmud Study with Cantor Emma Lutz: Wednesday, July 10 | 12 p.m. | Udko Annex
Bible Study with Rabbi Ron Stern: Monday, July 15 | 9 a.m. | Conference Room
Adult March of the Living Trip with Rabbi Yoshi Zweiback and Rabbi Ron Stern
In April 2020, join Rabbi Yoshi Zweiback and Rabbi Ron Stern on the most iconic and unforgettable walk through the darkest time in Jewish history by participating in the Adult March of the Living. The group will visit some of the deeply significant locales in Poland including Krakow and Warsaw as well as the concentration camps in the vicinity and will encounter the amazing resurgence of Jewish life in Poland. Finally, the group will join thousands of high school students from across the globe in making an epic trek of freedom out of Auschwitz concentration camp. Afterwards there, will be an optional add-on visit to Israel highlighting those experiences rarely available on standard tours: cultural experiences, regional tours, and complex political conversations.
SIGNUP TO LEARN MORE

Backyard Shabbat Service and Potluck Lunch
Saturday, July 6 | 9 a.m. | Beverly Hills (address provided upon RSVP)
Enjoy worship, music, food, fun, and friends at a Shabbat morning service in the backyard. We will study, pray, and enjoy our usual lunch. Bring your favorite A-list picnic dish (vegetarian please) to round out our potluck.
Please note: We will not hold Saturday morning services on the Wise campus.
Address provided upon RSVP.
RSVP HERE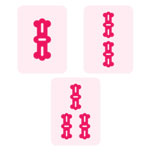 Wise Women presents
Mahj and More
Wednesdays, July 10, August 7 |
1 p.m. | Udko Annex
Wise members and guests are invited to join other Wise Women for our monthly open play day: Mah Jongg, Canasta, Bridge, or any other game you'd like! Groups or single players and all levels (beginners to experts) are welcome and encouraged! If you have a Mah Jongg set, please bring it along. Snacks and light refreshments will be served. While this is a free event, we kindly ask for your RSVP.
JULY 10
AUGUST 7
Shabbat by the Shore
with Rabbi Yoshi Zweiback and Cantor Emma Lutz
Friday, August 9 | 6:30 p.m. | Crescent Bay Park, Santa Monica
Our seaside service has become a beloved summer tradition, bringing together friends from all over Los Angeles for a sunset Shabbat full of meaningful prayer and uplifting music. As always, arrive early to stake out a spot for your blanket and picnic "pre-neg" and be sure to pack your frisbees and beach balls for an after-service hangout!
Tisha B'Av
Saturday, August 10 | 7 p.m.
Join us for an observance of Tisha B'Av unique to Los Angeles in 2019 as we connect our ancient texts with the blight of homelessness now facing our community. In coordination with the Religious Action Center of California, Temple Kol Ami, Temple Israel of Hollywood, Temple Beth Hillel, Kol Tikvah, and Beth Shir Shalom, we will gather to recall our people's history of displacement and reflect on its continuing imperative to end the homelessness of others.
RSVP HERE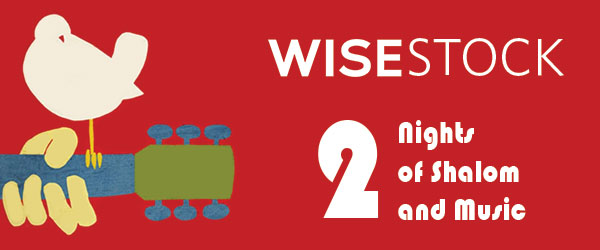 WiseStock: Two Nights of Shalom and Music
Thursday, August 15 | 6 p.m. | Beverly Cañon Gardens
Friday, August 16 | 6:15 p.m. | Wise Campus
Celebrate Woodstock's 50th anniversary with two extraordinary summer nights of shalom, ahavah, and music. Wise clergy, musicians, singers, and special guests will lead a singalong with Mayor John Mirisch in Beverly Hills' beautiful Cañon Gardens on Thursday evening. On Friday night, we will celebrate a Shabbat service inspired by music from Woodstock. Featuring hits by beloved artists that performed at Woodstock in the glorious summer of '69, this two-night celebration will bring all of our voices together to offer more peace, love, and music into the world.

Yahrzeits
We remember with love those who died in recent days and weeks:
Barbara Chester, Barry Gordon, Evelyn Feigen Koss
We observe the yahrzeits of:
Murray Albert*, Howard Alweil, Gertrude Aranoff, Harriet May Baumann*, Dr. Joseph Beber*, Bertha Blumin*, Hannah Cassel, Ruth B. Factor*, Etomer Fishman*, Theodore Friedman, Kibbe Garber*, Dudley H. Glick, Alexander J. Gordon*, Sally Gotlieb, Sam Gross, William Kretschmer*, Cynthia Anne Levy*, Michele Lockey, Frederic Maas*, Arlene Meyers*, Philip Mintz*, Bernie Mullen*, Lila Neuman*, Evelyn Price, Allen H. Rabin*, Francis Richman*, Jacob J. Rosen*, Israel Shapiro*, James Robert Singer, Morrie Steiner*, Maurice Sterman, Jody Straus*, Ethel Tabor*, Murray Tannenbaum, Herta Widawer*, Joseph Zacky*, Clemence Zimmerman
*Designated on our memorial walls
Mazal Tov
Shehechianu Moment
Do you have a milestone birthday or anniversary approaching? We'd like to celebrate your special day on the bima during Friday evening Shabbat Services! Invite your family, join your Wise community, make it a "shehechianu moment" – a time to give thanks for life, health, and the blessings that enable you to reach this great moment in your life. Let us know by emailing Arlene Spiegelman or calling 310.889.2272 and she'll make sure to schedule a date that works for you. We'd love to share your celebration!
Felice and Douglas Williams on the recent marriage of their daughter Molly Williams to Nicholas Andrews.
Condolences
We reach out as a community and offer our support and deepest sympathy to those among us who are mourning the loss of a loved one.
Phil and Olivia Gordon on the loss of Phil's father Barry Gordon.
Tributes
We honor our loved ones, our family simchas, and our communal losses through charitable giving. To give in honor or in memory of a cherished family member or dear friend, please visit WiseLA.org/Giving.
ANNUAL CAMPAIGN
IN MEMORY OF:
Sam Gross, by Sally and Donald Jones and Family
AVI EFRAIM GESUNDHEIT FUND FOR MUSIC
IN MEMORY OF:
Etomer Fishman, by Evaline Fishman and Family
CAMP WISE DONATION
IN MEMORY OF:
Maurice Sterman, by Anida, Carole, Rick, and Isabella
CENTER FOR JEWISH LIFE ENDOWMENT
IN MEMORY OF:
James Robert Singer, by Roger and Patti Golden
HOMES FOR HEROES
IN MEMORY OF:
Edsel Brewington, who was an Air Force officer during WWII and the Vietnam War, by his nephew, Alfred Estolonio
EARLY CHILDHOOD OPERATIONS SUPPORT
IN MEMORY OF:
Evelyn Price, by Bill Feldman
TEMPLE GENERAL FUND
IN HONOR OF:
Erica and Danya Bloom, by Harriet Kusnitz
TIKKUN OLAM LEADERSHIP PROGRAM
IN MEMORY OF:
Clemence Zimmerman, by Lauren Bartlett
Michele Lockey, by Lauren Bartlett
Theodore Friedman, by Nancy Norris and Family
WISE SCHOOL GENERATIONS ENDOWMENT
MAZAL TOV:
To Janine and Richard Kolodny, on their son David's engagement to Emily Macon, by Lori and Rob Goodman
YAHRZEIT FUND
IN MEMORY OF:
Dudley H. Glick, by The Glick and Sheerin Family
Hannah Cassel, by Joel Cassel

We appreciate our wonderful volunteers:
Volunteers for Lunch Bunch:
Tuesday, June 18
Janis Berkman
Norma Cooper
Alexandra Shore Fixmer
Ilene and Harry Jacobs
Diane Kabat
Candance Konowitch
Liz Koppelman
Shelly Levy
Keren Mevorakh
Freda Moscowitz
Patty Ogden
The Podemski Family
Heidi Praw
Sheila Rosenberg
Barbara Sampson
Shirley Sniderman
Lana Sternberg
Gail Woskow
Nosh Volunteer:
Susan Firestone
Gift Shop Volunteers:
Terrie Baumann
Rochelle Fox
Lori Rubin
Carol Sookman

Have a great idea? Share it with us by submitting it to our online suggestion box.
SUGGESTIONS
Do you want to reach us? 
CONTACT LIST
Are you having a lifecycle event? Or would you like to be added to this email list? 
LET US KNOW
Would you like to get involved? Check out upcoming Temple and School events. 
VIEW CALENDAR




MEMBER
LOGIN
Stephen Wise Temple | 15500 Stephen S. Wise Drive | Los Angeles, CA 90077
Shabbat Shalom