To Rome and Back
by Cantor Nathan Lam
This past week I had the privilege of participating in the celebration of the 25th anniversary of diplomatic relations between the State of Israel and the Holy See (Vatican). This was one of the great honors that I have received in the 49 years that I have been a cantor.
My wife Donna and I were in Italy in February scouting out sites, venues, and hotels for next year's Cantors Assembly Mission to learn and experience the uniqueness of the Jewish communities. We were able to meet with Jewish leaders and the diplomatic mission of Israel which includes an ambassador to Italy and another to the Holy See. When I returned home, I received an invitation to plan the program for June 13 to be held in the Great Synagogue of Rome sponsored by the Israeli government and the Vatican. I was able to choose the artists, two cantors that are Israeli born, and the repertoire.
READ MORE
WITNESS THE INSPIRING SOUNDS AND SIGHTS OF CANTOR NATHAN LAM'S PERFORMANCE 
WATCH CATHOLIC NEWS SERVICE'S COVERAGE
Outdoor Summer Shabbat Services Return This Week
The summer months mean a return to our beautiful outdoor spaces for Shabbat services! This Friday we will celebrate in beautiful Geldin Chapel as we welcome Shabbat together against an inspiring backdrop. Remember to bring a sweater or jacket as temperatures and wind may change after sunset. Of course, should we experience a heat advisory or if we expect inclement weather, services will move back indoors – we'll keep the schedule posted in Eyes On Wise every week, so watch this space for info.
Wise Members: Renew Your Commitment Online for 2019-20
Earlier this week, Wise members received both an email and mail packet containing Wise Stories (our 2018-19 year in review) along with membership information for the coming year! You may renew your commitment on our website or call 310.476.8561 during office hours for assistance by phone. If you aren't yet a Wise member, now is the time to become part of our community! Members will receive High Holy Days tickets and info in early August. Please contact Lucy Harel, Director of Membership, to learn all about how you can join us in making meaning and changing the world.
This Week's Torah Portion:
Beha-Alotekha
Friday, June 21
6:15 p.m. | Shabbat Services | Geldin Chapel
Led by Rabbi Yoshi Zweiback, Rabbi Ron Stern, Cantorial Intern Sara Anderson
Rabbi Stern's Sermon Topic: LGBTQ+ Pride and Jewish Pride: Both Belong at Wise!
Watch live on Friday night: Facebook | WiseLA.org
Saturday, June 22
9 a.m. | Lay-led Torah Study | Chapel Study
10 a.m. | Shabbat Morning Services | Plotkin Chapel
Led by Rabbi Yoshi Zweiback and Cantorial Intern Sara Anderson
Next Week
Friday, June 28
6:15 p.m. | Shabbat Services | Geldin Chapel
Led by Rabbi David Woznica and Cantorial Intern Sara Anderson
Saturday, June 29
9 a.m. | Lay-led Torah Study | Chapel Study
10 a.m. | Shabbat Morning Services | Plotkin Chapel
Led by Rabbi Ron Stern and Cantorial Intern Sara Anderson
Learning Opportunities with Clergy
Bible Study with Rabbi Ron Stern: Monday, June 24 | 9 a.m. | Conference Room
Talmud Study with Rabbi Sari Laufer: Wednesday, June 26 | 12 p.m. | Udko Annex
---
Stop by during our weekday hours or at Shabbat services:
Mon-Thurs | 2-4 p.m.
Friday | before and after services
Cant make it during our regular hours? Contact Gila at 310.889.2210.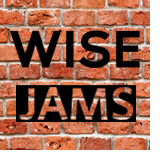 Wise Jams
Thursday, June 20 | 8 p.m.
Join us for a night of music at Wise Jams with Rabbi Yoshi, Maestro David Kates, and fellow musicians from the Wise community. Are you an ace on the bass? Get your kicks on the sticks? Bring your axe, your sax, your vox, and your chops. We'll supply the mics, amps, sheet music, and a rockin' good time!
RSVP HERE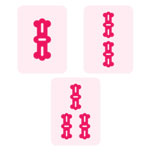 Wise Women presents
Mahj and More
Wednesdays, July 10, August 7 | 1 p.m. | Udko Annex
Wise members and guests are invited to join other Wise Women for our monthly open play day: Mah Jongg, Canasta, Bridge, or any other game you'd like! Groups or single players and all levels (beginners to experts) are welcome and encouraged! If you have a Mah Jongg set, please bring it along. Snacks and light refreshments will be served. While this is a free event, we kindly ask for your RSVP.
RSVP HERE
Shabbat by the Shore
with Rabbi Yoshi Zweiback and Cantor Emma Lutz
Friday, August 9 | 6:30 p.m. | Crescent Bay Park, Santa Monica
Our seaside service has become a beloved summer tradition, bringing together friends from all over Los Angeles for a sunset Shabbat full of meaningful prayer and uplifting music. As always, arrive early to stake out a spot for your blanket and picnic "pre-neg" and be sure to pack your frisbees and beach balls for an after-service hangout!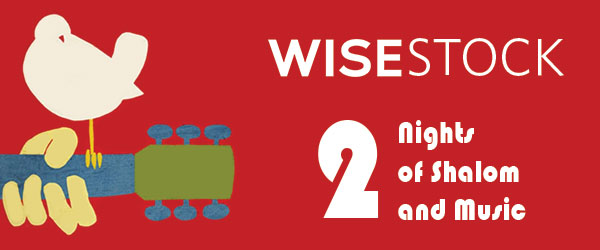 WiseStock: Two Nights of Shalom and Music
Thursday, August 15 | 6 p.m. | Beverly Cañon Gardens
Friday, August 16 | 6:15 p.m. | Wise Campus
Celebrate Woodstock's 50th anniversary with two extraordinary summer nights of shalom, ahavah, and music. Wise clergy, musicians, singers, and special guests will lead a singalong with Mayor John Mirisch in Beverly Hills' beautiful Cañon Gardens on Thursday evening. On Friday night, we will celebrate a Shabbat service inspired by music from Woodstock. Featuring hits by beloved artists that performed at Woodstock in the glorious summer of '69, this two-night celebration will bring all of our voices together to offer more peace, love, and music into the world.

Yahrzeits
We remember with love those who died in recent days and weeks:
Barbara Chester, Peggy Lassar Gross, Evelyn Feigen Koss
We observe the yahrzeits of:
Louis H. Abrams, Scott David Barron*, Henry E. Belmont*, Bella Berenfeld*, Samuel Berr*, Harry Berrin*, Louis Bersen, Coleman Bloomfield*, Ron Chase, Saul Cohen*, Maxwell P. Cohen*, Simon Crasnick*, Adolph Dornberg*, Nettie DuBoef*, Edna Flexer*, Ellyn Jo Friedman Foster, Nettie Frost*, Bertha Glassman, Esther Glassman*, Louis Glick, Rose Good*, Jack Gordon*, Nelson Lawrence Gordon*, Minnie Green*, Gereldine Weisser Green, Minnie T. Kent*, Gertrude Kornweiser, Morrie Lang, Henrietta S. Levin*, Joseph Loeb, Arthur Marsh*, Morris H. Moskowitz*, Henrietta Z. Nairin*, Bob Prensky*, Frieda Reichenthal*, Irving Resch, David Rose*, Celly Rosenson*, Abraham Rothenstein, Zelda Silverman*, Samuel D. Surlow*, Sol Vilensky*
*Designated on our memorial walls
Mazal Tov
Shehechianu Moment
Do you have a milestone birthday or anniversary approaching? We'd like to celebrate your special day on the bima during Friday evening Shabbat Services! Invite your family, join your Wise community, make it a "shehechianu moment" – a time to give thanks for life, health, and the blessings that enable you to reach this great moment in your life. Let us know by emailing Arlene Spiegelman or calling 310.889.2272 and she'll make sure to schedule a date that works for you. We'd love to share your celebration!
Tributes
We honor our loved ones, our family simchas, and our communal losses through charitable giving. To give in honor or in memory of a cherished family member or dear friend, please visit WiseLA.org/Giving.
 
RABBI YOSHI ZWEIBACK DISCRETIONARY FUND
IN MEMORY OF:
Gertrude Kornweiser, by Roberta and Paul Marshall
Henrietta Levin, by Nancy Levin & Family
Irving Resch, by Laurie and Ron Resch and Family
Louis H. Abrams, by Joan Spiegel
RABBI RON STERN DISCRETIONARY FUND
IN MEMORY OF:
Louis Glick, by the Glick and Sheerin Family
CANTOR NATHAN LAM DISCRETIONARY FUND
IN MEMORY OF:
Saul Cohen, by The Feldmans
CANTOR EMMA LUTZ DISCRETIONARY FUND
IN MEMORY OF:
Louis H. Abrams, by Joan Spiegel
MELTON SCHOOL DONATION
IN MEMORY OF:
Abraham Rothenstein, by Lois Rothenstein-Wax
SOCIAL JUSTICE FUND
IN HONOR OF:
Janine and Richard Kolodny, and their son David's engagement, by Sussan and Michael Shore
WISE SCHOOL ANNUAL GIVING
IN HONOR OF:
Rabbi Yoshi Zweiback, Tami Weiser, and the Wise School faculty and staff, for providing such an outstanding education to our grandson Eytan Zakai, by Rabbi Leah Kroll and Dr. Michael Zeldin
WISE TIKKUN OLAM LEADERSHIP FUND
IN MEMORY OF:
Joseph Loeb, by The Loeb and Russ Family
YAHRZEIT FUND
IN MEMORY OF:
Bertha Glassman, by Ruth Winthrop
Celly Rosenson, by Dan and Linda Rosenson
Ellyn Jo Friedman Foster, by The Friedmans: Jeffrey, Steven, Leonard
Julius Goldberg, by Bob Bienenfeld
Louis Bersen, by Renee and Robert Siragusa
Morrie Lang, by Lillian Mylon
Sherley Perlman, by Arnold Perlman

We appreciate our wonderful volunteers:
Volunteers for Lunch Bunch:
Tuesday, June 18
Janis Berkman
Norma Cooper
Alexandra Shore Fixmer
Ilene and Harry Jacobs
Diane Kabat
Candance Konowitch
Liz Koppelman
Shelly Levy
Keren Mevorakh
Freda Moscowitz
Patty Ogden
The Podemski Family
Heidi Praw
Sheila Rosenberg
Barbara Sampson
Shirley Sniderman
Lana Sternberg
Gail Woskow
Nosh Volunteer:
Susan Firestone
Gift Shop Volunteers:
Terrie Baumann
Rochelle Fox
Lori Rubin
Carol Sookman

Have a great idea? Share it with us by submitting it to our online suggestion box.
SUGGESTIONS
Do you want to reach us? 
CONTACT LIST
Are you having a lifecycle event? Or would you like to be added to this email list? 
LET US KNOW
Would you like to get involved? Check out upcoming Temple and School events. 
VIEW CALENDAR




MEMBER
LOGIN
Stephen Wise Temple | 15500 Stephen S. Wise Drive | Los Angeles, CA 90077
Shabbat Shalom