Omer Counting — Counting Our Days
by Rabbi Yoshi Zweiback
We are in the season of counting — s'firat ha-omer — this time between Passover and Shavuot, between our Redemption at the Sea and the purpose of that Redemption: Torah, the teachings of our tradition that point us to meaning, compassion, justice, and tikkun (repair).
READ MORE
Wise Welcomes New Director of Religious School and Temple Youth
Wise is pleased to announce that Stephanie Schwartz will join our Center for Youth Engagement team this summer as the Director of Religious School and Temple Youth. Stephanie has worked in the field of supplementary Jewish education for 18 years, serving as a Religious Educator and as a Religious School Director in Philadelphia and Los Angeles. She has developed a religious school from the ground up and has created innovative, immersive educational experiences that make meaning for students and families in every community she has encountered. Her experience, her professionalism, and her creativity will help us as we continue to enrich the Jewish experiences we provide to our children, teens, and families. We are extremely grateful to the faculty and parents of our selection committee who helped us add Stephanie to our team.
Center Theatre Group and Stephen Wise Temple present
Jewish Theatre: From God of Vengeance to Indecent
Monday, June 3 | 7 p.m. (Doors open at 6:30 p.m.)
Featuring Paula Vogel (pictured), Pulitzer Prize-winning playwright of Indecent; Miri Koral, Executive Director of the California Institute for Yiddish Culture and Language; and Shane Baker, Director of the Congress for Jewish Culture
In 1907, the Polish Jewish writer Sholem Asch premiered a groundbreaking piece of Yiddish theatre that would be produced around the world, get translated into English, stir hearts, change lives, and cause decades of controversy, including landing a troupe of Broadway actors in jail. The story of that play, God of Vengeance, is at the heart of the critically acclaimed Broadway hit Indecent, which won two Tony Awards and was nominated for Best Play. Where, how, and why did Asch create God of Vengeance, and how has it continued to reverberate for over a century? Why did it inspire Pulitzer Prize-winning playwright Paula Vogel to create a new work that celebrates klezmer music, the Yiddish language, and the power of art? Join us for a discussion of a century of Jewish theatre, from God of Vengeance to Indecent.
RSVP HERE
Use code: EVENT
Shavuot: A Celebration of Creativity
Great Music, Great Art, Great Film
Saturday, June 8 | 7:30 p.m.
Following a brief worship service, we highlight the work of three talented members of our congregational community and learn about their creative processes and Judaic inspirations. Daniela Gesundheit is a vocalist, composer, and cantor. She has released three critically acclaimed records on Fire, Arts and Craft and we will enjoy her live performance. She is also a graduate of Wise Elementary school. Mario Muller paints exclusively with India Ink on Paper and his extraordinary work will be featured in the new Stephen Wise Temple Machzor, which he will debut tonight. Mario is the Artist in Residence of our temple. Daniel Ben Ari, celebrated director, producer, and editor of powerful documentaries and national and international commercials will show highlights of his work in viral video, commercial, feature film, and documentary.
We are in for a treat. And… speaking of treats, we will, of course, conclude with an array of cheesecakes.
LISTEN TO MUSIC BY DANIELA GESUNDHEIT 
VIEW MARIO M. MULLER'S ARTWORK 
This Week's Torah Portion:
Behar
Friday, May 24
6:15 p.m. | Shabbat Services | Sanctuary
Led by Rabbi Ron Stern and Cantor Emma Lutz
Guest speaker Tommy Newman of the United Way will discuss the "Everyone In" program to help the homeless in our community
Watch live on Friday night: Facebook | WiseLA.org
Saturday, May 25
9 a.m. | Lay-led Torah Study | Chapel Study
10 a.m. | Shabbat Morning Services | Plotkin Chapel
Led by Rabbi Josh Knobel and Cantor Paul Dorman
Next Week
Friday, May 31
6:15 p.m. | Shabbat Services | Plotkin Chapel
Led by Rabbi Yoshi Zweiback, Rabbi Sari Laufer, Cantor Emma Lutz and Cantorial Student Sara Anderson
Saturday, June 1
9 a.m. | Lay-led Torah Study | Chapel Study
10 a.m. | Shabbat Morning Services | Plotkin Chapel
Led by Rabbi Ron Stern and Cantor Nathan Lam
Learning Opportunities with Clergy
Talmud Study with Rabbi Yoshi Zweiback: Wednesday, May 29 | 12 p.m. | Udko Annex — LAST DAY OF CLASS
Bible Study with Rabbi Ron Stern: Monday, June 3 | 9 a.m. | Conference Room
Stop by during our weekday hours or at Shabbat services:
Mon-Thurs | 2-4 p.m.
Friday | before and after services
Cant make it during our regular hours? Contact Gila at 310.889.2210.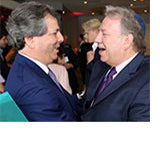 Kol HaKavod to Wise member Sandy Sigal, who was honored by the Jewish Federation of Los Angeles's Real Estate and Construction Division at their annual banquet on Wednesday, May 8. Rabbi David Woznica addressed the 1,200 attendees, speaking on the power of philanthropy.
Opportunities to Visit with Cantor Lam While In Israel This Summer
Cantor Nathan Lam will be in Israel from June 25 to July 3. If you would like to meet up with him for coffee, a bite to eat, or just some conversation, please contact Clergy Assistant Terri Caplan and she will be happy to help schedule something.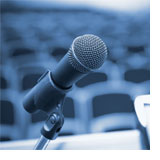 Wise Guys presents…Conversations
Man Up: Defining Jewish Masculinity for the 21st Century
Thursday, May 30 | 7:30 p.m.
Join Rabbi Josh Knobel for this pivotal entry in a series of conversations designed for modern Jews. "Man Up" will explore how Jewish men can turn the tide against a culture of sexual harassment and assault that has left far too many women in our world at risk of abuse and exploitation. Discover how to acknowledge and combat misogyny without compromising your manhood, how to be woke without mansplaining, and how to raise empowered, feminist Jewish men for the 21st century.
People of all genders are invited to enrich this meaningful conversation.
REGISTER HERE
Special Baby Playdate with Rabbi Sari Laufer and Tot Shabbat
Saturday, June 1 | Parenting Center
Baby Playdate | 9 a.m. (12 months and younger)
Tot Shabbat | 10 a.m.
Babies and their parents are invited to join us on Saturday June 1, for our Wise Baby Playdate with Rabbi Sari Laufer, featuring a special Parenting Center preview music class! Come eat, meet, and celebrate/commiserate on the joys of parenthood. Families are welcome to stay and join us for Tot Shabbat afterwards.
BABY PLAYDATE
TOT SHABBAT
This is our last Baby Playdate of the year – we look forward to seeing you again in the new year. In the meantime, there are limited spaces available for our summer Parenting Center classes commencing June 17.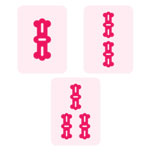 Wise Women presents
Mahj and More
Wednesdays, June 5, July 10, August 7 | 1 p.m. | Udko Annex
Wise members and guests are invited to join other Wise Women for our monthly open play day: Mah Jongg, Canasta, Bridge or any other game you'd like! Groups or single players and all levels (beginners to experts) are welcome and encouraged! If you have a Mah Jongg set, please bring it along. Snacks and light refreshments will be served. While this is a free event, we kindly ask for your RSVP.
RSVP HERE
Wise Alumni Paint and Sip Night
Wednesday, June 12 | 7 p.m.
This event is 18+ but you must be 21+ for cocktails.
It's time to have some fun and catch up with your old classmates! Enjoy drinks, appetizers, your buddies and besties, and a blank canvas as we paint together and reconnect. No artistic experience or talent required—in fact, we think that's better and somewhat more hilarious. Wear clothes you don't mind spilling watercolors on!
Cost: $36
REGISTER HERE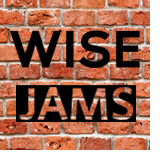 Wise Jams
Thursday, June 20 | 8 p.m.
Join us for a night of music at Wise Jams with Rabbi Yoshi, Maestro David Kates, and fellow musicians from the Wise community. Are you an ace on the bass? Get your kicks on the sticks? Bring your axe, your sax, your vox, and your chops. We'll supply the mics, amps, sheet music, and a rockin' good time!
RSVP HERE
Adult March of the Living Trip with Rabbi Yoshi Zweiback and Rabbi Ron Stern
In April 2020, join Rabbi Yoshi Zweiback and Rabbi Ron Stern on the most iconic and unforgettable walk through the darkest time in Jewish history by participating in the Adult March of the Living. The group will visit some of the deeply significant locales in Poland including Krakow and Warsaw as well as the concentration camps in the vicinity and will encounter the amazing resurgence of Jewish life in Poland. Finally, the group will join thousands of high school students from across the globe in making an epic trek of freedom out of Auschwitz concentration camp. Afterwards there, will be an optional add-on visit to Israel highlighting those experiences rarely available on standard tours: cultural experiences, regional tours, and complex political conversations.
SIGNUP TO LEARN MORE

Yahrzeits
We remember with love those who died in recent days and weeks:
Barbara Hoffman, Kenneth Gelber, Michael Mandell, Shokrollah Sakhai, Mansour Salamati
We observe the yahrzeits of:
Arthur S. Allen, M.D.*, George Anenberg*, Sadye Arbeitel*, Roseann Aroesty*, Allen R. Balton*, Freida Beral, Edith Boxer*, John Cohen*, Sylvia Colman, Rosanna Crasnick*, Aaron Elmore*, Rudy Fidler, Edith Gad, Max Gamer*, Jonathan Goldberg, Samuel Guber, Norma Hirsch, Edward Hoffman*, Jan Hoffman*, Arthur Holtz, Sam Horn*, Clarence Jacobson*, Yetta Jampolis*, Joseph Karp*, Erica Horn Kaufman*, Rose Kelback*, Jules Kester*, Ted Koffman*, Hyman Korenthal, Harry Hans Lederer, Judith Q. Levin, Joseph Liebschutz, Steven Joel Masket*, Edmund Reiss*, Louis Ruben*, Beatrice Ruderman, Harry Salter*, Gene Salzman, Nita Shalit*, Benjamin Sherman*, Lillian Sherman*, Lloyd A. Tasoff*, Dr. Harvey Tonken*, Sadie Vilensky*, Peggy Walter, Andrew Scott Wineman*, Lily Wiseman, Arthur Wright, Florence Zeldin*
*Designated on our memorial walls
Mazal Tov
Shehechianu Moment
Do you have a milestone birthday or anniversary approaching? We'd like to celebrate your special day on the bima during Friday evening Shabbat Services! Invite your family, join your Wise community, make it a "shehechianu moment" – a time to give thanks for life, health, and the blessings that enable you to reach this great moment in your life. Let us know by emailing Arlene Spiegelman or calling 310.889.2272 and she'll make sure to schedule a date that works for you. We'd love to share your celebration!
Karin and Shawn Azizzadeh on the birth of their daughter Jayde Azizzadeh.
Joel and Ileana Waldman on the birth of their son Judah Mac Waldman.
Dr. Eve Kurtin-Steinberg and Michael Steinberg on the birth of their grandson Micah Jared Aguayo to proud parents Drew Steinberg-Aguayo and Jesse Aguayo.
Richard and Suzanne Marmaro on the marriage of their son Paul Marmaro to Danielle Harris. 
Tributes
We honor our loved ones, our family simchas, and our communal losses through charitable giving. To give in honor or in memory of a cherished family member or dear friend, please visit WiseLA.org/Giving.
 
RABBI YOSHI ZWEIBACK DISCRETIONARY FUND
IN HONOR OF:
Rabbi Yoshi, for officiating the Brit Milah of our son, by Michael Runyan & Alexis Berman
RABBI RON STERN DISCRETIONARY FUND
IN MEMORY OF:
Arthur Wright, by Leslie Wright
RABBI ELI HERSCHER DISCRETIONARY FUND
IN MEMORY OF:
Sylvia Colman, by Ruth and Arnold Colman
IN HONOR OF:
Rabbi Herscher, for officiating at the Ketuba signing of Eric and Sarah Boujo, by Irene & Yoni Boujo
CANTOR NATHAN LAM DISCRETIONARY FUND
IN MEMORY OF:
Harry Hans Lederer, by The Families of Delorah Lederer Sagues and Les E. Lederer
AFSANEH YOUSEFZADEH MEMORIAL FUND
IN MEMORY OF:
Gene Salzman, by David and Linda Salzman
ANNUAL CAMPAIGN
IN MEMORY OF:
Peggy Walter, by Howard Walter
GESUNDHEIT FUND FOR MUSIC
IN MEMORY OF:
Erica Kaufman, by Tom Horn
SOCIAL JUSTICE
IN MEMORY OF:
Bea Dubman, by Carole Markoff
WISE HEARTS
IN MEMORY OF:
Lily Wiseman, by Susan Firestone
WISE SCHOOL GENERATIONS ENDOWMENT
MAZAL TOV TO:
Eve & Michael Steinberg on the birth of their grandson, Micah Jared Aguayo, by Janine and Richard Kolodny
WISE TIKKUN OLAM LEADERSHIP PROGRAM
IN MEMORY OF:
Judith Q. Levin, by Ruth L. Kalin
YAHRZEIT FUND
IN MEMORY OF:
Edmund Reiss, by Diana R. Gingell
Joseph Liebschutz, by Lynne Richter
Norma Hirsch, by Geri and Jim Sherman and Family
Rudy Fidler, by Morel and Brenda Fidler
Samuel Guber, by Peter and Tara Guber

We appreciate our wonderful volunteers:
Nosh Volunteer:
Susan Firestone
Gift Shop Volunteers:
Terrie Baumann
Rochelle Fox
Lori Rubin
Carol Sookman

Have a great idea? Share it with us by submitting it to our online suggestion box.
SUGGESTIONS
Do you want to reach us? 
CONTACT LIST
Are you having a lifecycle event? Or would you like to be added to this email list? 
LET US KNOW
Would you like to get involved? Check out upcoming Temple and School events. 
VIEW CALENDAR




MEMBER
LOGIN
Stephen Wise Temple | 15500 Stephen S. Wise Drive | Los Angeles, CA 90077
Shabbat Shalom