Gratitude is Better Together
by Rabbi Yoshi Zweiback
My oldest daughter phoned from college the other day, reminding me that this Shabbat marks the eighth anniversary of her becoming Bat Mitzvah. I shook my head in disbelief—it can't have been that long already.
I felt a mixture of emotions: a longing for her to be closer to us; a bit of sadness about the passing of time; and—overwhelmingly—a feeling of gratitude for how lucky I am… To have a daughter who phones me (so often!) to share her life with me; to have the memories of that glorious day in Jerusalem when she read so beautifully from the Torah and Haftarah, delivering her d'var Torah in perfect Hebrew; to live in such a time when our daughters can stand proudly before us, chanting the sacred words of our tradition, being counted fully as adult members of our community.

TOMORROW NIGHT
#UsToo: New Perspectives on Gender and Power in the Jewish Community
with Rabbi Rachel Sabath Beit-Halachmi
Friday, February 21 | 6:15 p.m.
Rabbi Rachel Sabath Beit-Halachmi is a well-known thought leader, institutional builder, strategic innovator, published author and public speaker. She currently serves as a senior fellow at the Kaplan Center for Jewish Peoplehood. Most recently, Rabbi Sabath led a four-campus team at Hebrew Union College-Jewish Institute of Religion (HUC) as the National Director of Recruitment and Admissions. Rabbi Sabath has taught courses on modern Jewish thought, gender, liturgy and theology at HUC for over 16 years as well as at other institutions. Wise is excited to bring this elite scholar to Shabbat services for her thoughtful and insightful remarks on such an important topic.
---
We are excited to announce our Raffle and Live Auction for the Wise Gala!
Four Night Stay at Westin Monache Resort at Mammoth Lakes

Valued at $1,600

Donated by Farnaz Hayavi DDS, Kevin Hayavi, MD

SculpSure® Certificate – the most advanced noninvasive fat reduction technique

Value – $4,000

Donated by Gabbay Plastic Surgery, Dr. Joubin & Tiffany Gabbay

Fill It and Freeze It Package – combination of Gabbay Plastic Surgery's favorite products to lift and relax the face

Value – $3,100

Donated by Gabbay Plastic Surgery, Dr. Joubin & Tiffany Gabbay

One-night Stay at Fairmont Miramar Hotel & Bungalows at Santa Monica, Dinner at Fig Restaurant, & 2 VIP Tickets to Taping of Jimmy Kimmel Live!

Valued at $1,000

Donated by Fairmont Miramar Hotel Santa Monica/Fig Restaurant, Nancy and Alan Epstein, and by Debbee & Robert Schwartz

Trifecta Therapy Treatment – signature combination of Microneedling, Platelet Rich Plasma and Stem Cell Growth Factor serum, stimulating regeneration and repair of skin.

Value – $1,000

Donated by Gabbay Plastic Surgery, Dr. Joubin & Tiffany Gabbay

Four Tickets to The Book of Mormon at the Ahmanson Theatre

Valued at $530

Donated by Andrea & Glenn Sonnenberg
For more information or to purchase your raffle tickets in advance please call Development at 310.889.2234. You do not need to be present to participate in the raffle. 
---
Purim Carnival On Sale Now
Sunday, March 8 | 10:30 a.m. – 3:30 p.m.
The best Purim Carnival in town returns for a full day of all-ages fun! Rides, games, attractions, our Ferris wheel featuring breathtaking views, and much, much, MUCH more. Earlybird prices end on Friday, March 6!
Beit Issie Shapiro welcomed the EU Ambassador to Israel by bringing him together with kids to plant trees for Tu B'Shevat.
Jewish Disabilities Awareness, Acceptance, and Inclusion Month Spotlight:
Beit Issie Shapiro
Stephen Wise Temple, and especially the Early Childhood Center, have a very deep relationship with Beit Issie Shapiro, Israel's leading developer and provider of innovative therapies and state-of-the-art services for children and adults across the entire range of disabilities. In the past, Wise members have been honored for their support and fundraising efforts on behalf of Beit Issie Shapiro's children, having raised hundreds of thousands of the dollars over the years. Wise students even get to know some of the children at Beit Issie, learning about their stories, their challenges, and their successes. Through farmer's markets, Cycles for Smiles, and many other fundraising efforts, Wise continues this incredible partnership going strong!
This Week's Torah Portion: Mishpatim
Friday, February 21
6:15 p.m. | Shabbat Services | Plotkin Chapel
Led by Rabbi Yoshi Zweiback, Rabbi Sari Laufer, with special guest Rabbi Rachel Sabath Beit-Halachmi, and Cantorial Soloist Whitney Norton
Watch live on Friday night: Facebook | WiseLA.org 
Saturday, February 22
9 a.m. | Torah Study | Chapel Study
10 a.m. | Shabbat Morning Services | Plotkin Chapel
Led by Rabbi Josh Knobel and Cantor Paul Dorman 
Monday, February 24
9 a.m. | Bible Study with Rabbi Ron Stern | Conference Room
Wednesday, February 26
12 p.m. | Talmud Study with Rabbi Yoshi Zweiback | Udko Annex
Friday, February 28
6:15 p.m. | Shabbat Services | Plotkin Chapel
Led by Rabbi Yoshi Zweiback and Cantor Nathan Lam
Saturday, February 29
9 a.m. | Torah Study | Chapel Study
10 a.m. | Shabbat Morning Services (B'naii Mitzvah Celebration) | Sanctuary
Led by Rabbi Ron Stern and Cantor Nathan Lam

Wise Temple Youth presents
Social Justice & Purim
Grades 7-12
Sunday, February 23 | 6 p.m.
Join WTY in a project designed to give back to our community in the spirit of Purim.
---
Coffee with Rabbi Yoshi & College Student Purim Gift Packing
Thursday, February 27 | 10 a.m.
Wise parents are invited to get together to have a coffee with Rabbi Yoshi and to pack Purim gifts for their college kids. The event is kindly hosted by Evelyn Shooshani. Her address in Beverly Hills will be provided upon RSVP.
If you have NOT already provided your college student's current mailing address for 2019/20 and would like them to receive a package, add your child's address here.
---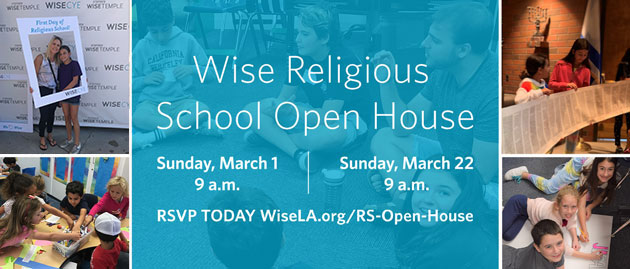 ---
YAD Presents
Haman Attacks! – Purim 2020
20s & 30s
Thursday, March 5 | 7 p.m.
Join us at Stephen Wise Temple for an out-of-this-world Purim party for our 20s/30s–food, open bar, dancing, and Purim festivities! 21+ only.
Outer space-themed costumes encouraged!
First 50 registrants will receive a discounted Lyft code.
---
Purim Carnival 2020
Sunday, March 8 | 10:30 a.m. – 3:30 p.m.
The best Purim Carnival in town returns for a full day of all-ages fun! Rides, games, attractions, our ferris wheel featuring breathtaking views, and much, much, MUCH more.
Earlybird prices end on Friday, March 6!
---
Purim Celebration and Megillah Reading
Monday, March 9 | 8 p.m.
Gather for dessert, fun, stories, and cocktails with your Wise clergy and community as we read the Megillah and celebrate the silliest of holidays!
The focus of our study will be the Megillah, which contains mature themes! Older kids and teens are welcome to join us. (i.e., consider it a PG-13 evening).
This event is free but RSVP is required.
---
Center for Jewish Life presents
Museums with Mario — Hauser and Wirth
Wednesday, March 11 | 11 a.m.
This relatively new blue chip gallery opened in 2016 with 20,000 square feet of exhibition space and it always promises an exhibit demanding of attention and worthy of curiosity.
---
Wise Years
Thursday, March 12 | Plotkin Chapel
10 a.m. | Registration Begins
10:30 a.m. | Program Begins
Join us as Bob Stern (past President of the Center for Governmental Studies; principal co-author of the Political Reform Act of 1974, Proposition 9; and current faculty member at UCLA's Osher Program and Santa Monica College's Emeritus Program) discusses the results of the March 3 primary election and comments on the Presidential election, U.S. Senate contests, key House races, as well as California's ballot measures and initiative process.
Author, artist, and musician Ester Benjamin Shifren was born in China to a prominent British Jewish family that had flourished in Shanghai for five generations. She served in the IDF, married, and lived in South Africa for 36 years and Canada for five years before moving to Los Angeles. Esther will be discussing her impactful life and family story. 
Movie: The Catcher Was a Spy —This gripping, stranger-than-fiction espionage thriller brings to life the incredible true story of Moe Berg, the professional baseball player who became a World War II spy working for the Office of Strategic Services.
---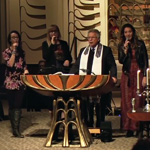 Soulful Shabbat and Ruby Lutz Baby Naming
Friday, March 13
6:30 p.m. | Dinner
8 p.m. | Shabbat Service
Our unique musical service is one of Wise's most popular traditions that creates a spiritual evening featuring the rhythms and melodies our members have come to love.
---
Wise Temple Youth presents
Ga-Avah (Pride)
Grades 7-12
Sunday, March 15 | 6 p.m.
A speaker from JQ International will lead us in interactive activities to deepen our understanding of the LGBTQ+ community and how we can be allies.
---
Center for Jewish Life presents
Men, Marriage, and Masculinity: Reflections on Intimacy, Fatherhood and Career
Dr. Jeffrey Marsh
Tuesday, March 17, 2020 | 7:30 p.m.
Men face unique issues in becoming husbands and fathers. The challenges of balancing work, marriage, and fatherhood can be daunting, and many marriages face a significant drop in satisfaction during the child-rearing years. Couples frequently don't have the same level of conversation and communication they once shared. When communication suffers, intimacy suffers as well. Dr. Jeffrey Marsh will offer insights into how to keep marriage vibrant and elevate the marital bond through meaningful communication between spouses. It is possible to enhance passion, pleasure, and joy throughout all of the stages of family development by finding new ways to be more present for your spouse and children while balancing the complex stresses of ordinary life.
---
Center for Jewish Life presents
Violins of Hope
The Los Angeles Jewish Symphony
Dr. Noreen Green, Artistic Director
Lindsay Deutsch, Violin
Sunday, March 22 | 7 p.m. | Younes and Soraya Nazarian Center for the Performing Arts California State University, Northridge
The Violins of Hope is a collection of violins, violas, and cellos rescued from the Holocaust and restored by Israeli luthiers Amnon Weinstein and his son Avshalom.  Included is a violin played in the Auschwitz orchestra as well as one used on the Kindertransport. Some were played by Jewish inmates in Nazi concentration camps; others belonged to the Klezmer musical culture. These instruments were silenced by the Holocaust.
Violins of Hope Los Angeles opens on March 22 with the Los Angeles Jewish Symphony and captivating violinist Lindsay Deutsch. Deutsch will be playing one of the finest of the rescued violins, performing Schindler's List Suite, Ernest Bloch's Baal Shem Suite, and Suite for Klezmer Band and Orchestra by Sid Robinovitch.
This unforgettable evening will commemorate the 75th year since the liberation of Auschwitz-Birkenau concentration camps and honor the six million Jewish victims of the Holocaust and millions of other victims of the Nazis.
A limited number of premium orchestra seats are being held at a special rate for the Stephen Wise Temple group on a first come, first served basis. We encourage you to purchase as soon as possible.
---
Tot Shabbat
Saturday, April 4 | 10 a.m. | Wise Woods
Gather together with our community for a festive Tot Shabbat service! Our Clergy and song leaders lead our music and story-filled service that introduces the youngest members of our community to the joy of Shabbat. Parents and grandparents will love it too!
Babies (0-12 months) and their parents are invited to join us for a special Baby Playdate for an hour leading up to Tot Shabbat. Come eat, meet and celebrate/commiserate the joys of new parenthood!
---
Wise Guys present
Feast of the Firstborn
Wednesday, April 8 | 7:30 a.m.
Please join Cantor Lam and your fellow Wise Guys for prayer, study, celebration and a feast! Since antiquity, firstborn children in Jewish families have fasted from sunrise to sunset on the day prior to the first Passover seder. The fast, first recorded in the Babylonian Talmud, represents an expression of gratitude for being spared from the tenth plague upon Egypt. In modern times, few Jews observe the fast, as most firstborn children instead choose to attend an obligatory feast. This practice, also from Talmudic times, teaches that Jews must break a fast in order to celebrate certain significant joys for the community, including the conclusion of study of a tractate of Talmud.
---
Jewish World Watch Walk to End Genocide
Sunday, April 26 | Pan Pacific Park
Registration 9:30 a.m.; Program 10 a.m.
In addition to the traditional Walk to End Genocide, this year there will be exciting new activities for the whole family! New interactive games that offer enhanced learning opportunities, expanded food offerings, a diverse marketplace, ways to advocate for survivors, and much more. Please register for the WISE WALKS team when you sign up to show that the Wise community will not stand idly by. Join others from around the city to raise awareness about worldwide genocide and how we can all have an impact on ending it.
---
Cantors Assembly Trip to Italy with Rabbi Yoshi and Cantor Lam
Trip Itinerary: Rome | Florence | Venice: June  22 – July 2, 2020
Following his incredible concert at the Great Synagogue of Rome, Cantor Nathan Lam and the Cantors Assembly are proud to announce a musical journey through Italy in the summer of 2020. Join Rabbi Yoshi, Cantor Lam, and the many voices of the Cantors Assembly for a magical excursion to Rome, Florence, and Venice.
The Jewish Federation of Greater Los Angeles presents
CA Census 2020: Be Counted, Los Angeles
Thursday, February 27 | 8 a.m. | Jewish Federation
With the imminent launch of the 2020 Census, every household will be contacted by April 1, 2020. As such, the Jewish Federation is convening experts and advocates for a coffee and conversation event to talk about the power of the count and how the Jewish community can get involved. Speakers include Maria Garcia, Director of the Census 2020 Initiative at the Mayor's Office of Budget and Innovation; Marcy Kaplan, the Sectors Outreach Manager for the California Complete Count Office for the State of California and Alejandra Ramirez-Zarate, civil rights leader and Policy Research Analyst for the Political Voice team at Advancement Project California. These guests will explore the importance of an accurate Census count and discuss how they are reaching out to the hard-to-count populations. RSVP is required.
---
American Associates of Ben-Gurion University and Stephen Wise Temple present
Symposium: Israel's Homeland Security Research Hub
Wednesday, March 25 | 5:30 p.m. | Luxe Sunset Boulevard Hotel 
Cantor Nathan Lam will moderate a panel discussion featuring Ben Gurion University faculty members Prof. Dan Blumberg, Prof. Ron Folman, and Dr. Yisroel Mirsky, as they discuss vital efforts and advances being made in Israel's Homeland Security research. Consul General of Israel Hillel Newman will also offer remarks.

Thank you LAFH Lunch Bunch
Volunteers on February 18
Janis Berkman​​​​​​​
Norma Cooper
Ilene & Harry Jacobs & Family
Diane Kabat
Candace Konowitch
Liz Koppelman
Jordyn & Wyatt Lundy
Freda Moscowitz
Heidi Praw​​​​​​​
Leslie Reid
Aliza Rosen
Sheila Rosenberg
Barbara Sampson
Bethany Schwartz
Lana Sternberg
Gail Woskow
We remember with love those who died in recent days and weeks:
Larry Field, Harold Goldman, Robert Friedman, Harris Kruger, Christina Leebove, Henry Stein​​​​​​​
We observe the yahrzeits of:
Lillian Zacks Abracen*, Miriam Bick, Oscar Ben Boxer*, Bessie Burman*, Hyman Cohen*, Shirley Diamond*, Lester Elisco*, Fannie Feiles*, Henry Fidler*, Dr. Avi Lane Friedlich, Gertrude Weissman Goldberg*, Pearl Golden*, Al Gursey*, Murray Harris*, Ruthie B. Kahn*, Louis L. Kaplan*, Rayda Kramer*, Dolly Lane, Sam Leebove*, Michael Evan Leffler*, Gerson Levy*, Barbara Fast Mezoff, Saeed Moradi, Joseph Ritter*, Sophie Rose*, Berna Lee Landsman Rosenthal, Fred Edward Rosenthal*, Chloe Camille Sampson*, Judith Simon, Herman Sobel*, Michael Steinore, Sylvia Williams, Jean I. Winston, Tillie B. Wolin*, Gertrudw Yavitch*
*Designated on our memorial walls
We reach out as a community and offer our support and deepest sympathy:
Renee Solnit on the passing of her husband Albert Solnit, father to Gary and Julie Solnit
Erica and Nader Binafard on the birth of their child Brandon Binafard
Michelle and Eric Massi on the birth of their child Logan Benjamin Massi, grandchild of Gerald Otelsberg
If you have a birth, wedding, or milestone birthday you would like to share with the Wise community, please email us at EyesOnWise@WiseLA.org. 
To schedule a Shabbat blessing or special reception in honor of a simcha, contact Arlene Spiegelman at 310.889.2272.
We honor our loved ones, our family simchas, and our communal losses through charitable giving. To give in honor or in memory of a cherished family member or dear friend, please visit WiseLA.org/Giving.
 
RABBI YOSHI ZWEIBACK DISCRETIONARY FUND
IN MEMORY OF
Ruth B. Kahn, by Barry, Ellen, Adam, and Leslie Dorfman
RABBI ELI HERSCHER DISCRETIONARY FUND
IN HONOR OF
Rabbi Eli Herscher, for officiating at the naming of our granddaughter, Juliet Lily Levine, by Carole and Gary Lazar
RABBI RON STERN DISCRETIONARY FUND
IN HONR OF
Rabbi Ron Stern, by Jodi and Phil Werbin
RABBI JOSH KNOBEL DISCRETIONARY FUND
IN HONOR OF
Rabbi Josh Knobel, by Suzanne Bressler Zoltan and Family
CANTOR NATHAN LAM DISCRETIONARY FUND
IN HONOR OF
Cantor Nathan Lam, for officiating at the naming of our granddaughter, Juliet Lily Levine, by Carole and Gary Lazar
CANTOR EMMA LUTZ DISCRETIONARY FUND
MAZAL TOV TO
Cantor Emma Lutz and Rabbi Adam Lutz, on the birth of Ruby Mira Lutz, by Shelly and Don Levy
AARON MILKEN CENTER
IN MEMORY OF
Harris Kruger, love Janine and Rick Kolodny
HOMES FOR HEROES
IN MEMORY OF
Michael Steinore, by Norma Cooper
Harold Goldman, by Susie and Bruce Goren
Harold Goldman, by Julie and Jim Sauer
MAX HESS LIBRARY FUND
IN MEMORY OF
Chloe Sampson, by Barbara Sampson and Family
SOCIAL JUSTICE FUND
IN MEMORY OF
Harold Goldman, by Daniel and Annette Shapiro
WISE GENERATIONS ENDOWMENT
IN HONOR OF
Karen and Ariel Goldenstein's 25th anniversary, by Dana and Scott Ehrlich
YAHRZEIT FUND
IN MEMORY OF
Barbara Fast Mezoff, by Beth, John, Lindsay, and Billy Wilson
Sylvia Williams, by Dr. and Mrs. L. Kosdon
Judith Simon, by Lynne Richter

Stephen Wise Temple | 15500 Stephen S. Wise Drive | Los Angeles, CA 90077
Shabbat Shalom