Hanukkah… Well, It's Complicated.
By Rabbi Josh Knobel
Like so many other aspects of Jewish tradition, the origins of Hanukkah remain so far removed from our existing practices as to render a celebration faithful to its history nearly impossible. After all, with its celebration of the Maccabean revolt against the Greeks, Hanukkah teaches us to have faith in ourselves to overcome any obstacle. However, with its tale of the oil that lasted eight days, Hanukkah also teaches us to have faith that God will provide when we cannot.
READ MORE
Celebrating Our Katzaversary
Mazal Tov to Katz Family Pavilion and Shalom Garden on celebrating a milestone birthday! If our beautiful campus centerpieces could talk, they'd surely thank everyone in the Wise community for the well-wishes and the terrific events that have taken place throughout the inaugural year. Here are some incredible highlights from year one:
Katz Family Pavilion and Shalom Garden won a 2018 LA Business Council Architecture Award for outstanding achievement in design and construction.
The entire project was a finalist for the 2018 Interior Design Magazine Awards.
All three spaces (plus the Levine Yoga Studio and adjacent classrooms) have been booked for over 10,000 hours in the past year.
Over 1,600 events have taken place inside and outside including (but not limited to) Wise School basketball games, athletic tournaments, Bar and Bat Mitzvah parties, wedding parties, Wise Gala, Wise Gratitude, fundraising phone-a-thons, Camp Wise activities, slumber parties, rock shows, hanukkiyah lightings, Rosh Hodesh Women's Gatherings, Purim festivities, and more and more and more!
All of this was made possible by our generous contributors including our lead donors: The Katz Family (Ronald Katz, Dana and Todd Katz, Kathy and Randall Katz); Edward and Deena Nahmias; Ken and Wendy Ruby; Rob and Lori Goodman; Lynn and Les Bider; Steve and Julie Bram; Steven and Jodie Fishman. We are grateful for their incredible vision, leadership, and support!
Give the Gift of Wise Family Camp
Wise Family Camp: Unplug, Recharge, Connect with Us in Ojai
February 8-10, 2019 | DEADLINE TO REGISTER: DECEMBER 15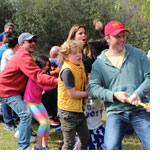 Take a break from the busyness of life and spend quality family time with your own family and your Stephen Wise Temple Family. Whether it's a Friday night song session with Rabbi Yoshi, the ropes course, hiking with Rabbi Stern, a Havdalah dance party, or just the chance to relax with a glass of wine, a good book and good friends–Family Camp is made for YOU. Family Camp is open to any Wise family with children or grandchildren of any age. From toddlers to teens and beyond, enjoy age-appropriate programming, great staff, and the beautiful scenery of Ojai. Come with your family and leave with new friends!
REGISTER HERE
---
Hanukkah with Wise
Shabbanukkah 2018 – fun for all ages!
Friday, December 7 at 6:15 p.m.
Our popular festival of lights celebration returns for a Shabbat of music, togetherness, and fried food. Be there for our joyous service (including a delightful Hanukkah story for kids) followed by a special oneg and remember that this event is BYOH (Bring Your Own Hanukkiyah!) so that we can light our lights together as one community.
Support LA Family Housing by bringing a $20 Target gift card to donate to families in need. Our partners at LA Family Housing are assembling a "Wishmart" for families during the holiday season and your donation of a gift card will go a long way to making it a wonderful holiday for all. We will collect them at our Shabbanukkah service and deliver to LA Family Housing.
Stars of Hope
Sunday, December 9
Shift A: 11:30 a.m. – 1 p.m.
Shift B: 2:30 p.m. – 4 p.m.
Send Stars of Hope ™ to victims of the recent fires and violence to show them that we care! Join us at one of two shifts to decorate your stars to be posted in Thousand Oaks. All decorating will be done in the Tyberg Innovation Lab at Wise School.
You must purchase at least one star in order to participate.
REGISTER HERE
EARN MORE ABOUT STARS OF HOPE
---
Worship
This Week's Torah Portion: Miketz
FRIDAY, DECEMBER 7
5:15 p.m. | 40s and 50s Happy Hour
6:15 p.m. | Shabbanukkah Services
Led by Rabbi Yoshi Zweiback, Cantor Nathan Lam and Cantor Emma Lutz
Watch live on Friday night: Facebook | WiseLA.org
SATURDAY, DECEMBER 8
9 a.m. | Lay-led Torah Study
10 a.m. | Shabbat Morning Services
Led by Rabbi David Woznica and Cantor Emma Lutz
NEXT WEEK
FRIDAY, DECEMBER 14
6:15 p.m. | Shabbat Services | Plotkin Chapel
Led by Rabbi Josh Knobel and Cantor Nathan Lam
6:30 p.m. | Soulful Shabbat Dinner (REGISTER HERE)
8 p.m. | Soulful Shabbat Service | Sanctuary
Please note: there will be no pre-service nosh this week.
Led by Rabbi Yoshi Zweiback and Cantor Nathan Lam
SATURDAY, DECEMBER 15
9 a.m. | Lay-led Torah Study
10 a.m. | Shabbat Morning Services 
Led by Student Rabbi Bryan Zive
Learning Opportunities with Clergy
Talmud Study with Rabbi Yoshi Zweiback: Wednesday, December 12 at 12 p.m. | Udko Annex
Bible Study with Rabbi Ron Stern: Monday, December 17 at 9 a.m. | Temple Conference Room
---
Wise Bulletin Board
Help us Make Meaning and Change the World: Now Accepting Nominations to the Stephen Wise Temple Board of Directors for 2019/2020
by Steven J. Fishman, Immediate Past President and Chair of the Nominating committee
Are you or is someone you know active, interested, and deeply involved in our Stephen Wise Temple and Schools community? Would you like to deepen your connection with Wise by joining our lay leadership team? If so, please submit your name or your recommendation for our 2019/2020 Board of Directors, Congregational Fund Trustees, and Officer positions. The Nominating committee requests that all Board nominee recommendations be submitted in writing to the chair, Steven J. Fishman, prior to December 30, 2018. Please include "2019/2020 Board of Directors" in the subject line of your email to ensure proper delivery. The Nominating committee will evaluate all submissions based on candidate criteria and available openings. Thank you for being committed and passionate members of our community.
EMAIL YOUR NOMINATION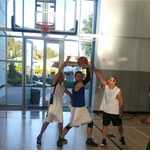 Open Gym — Final 2018 Dates 
Stephen Wise Temple members and staff are invited to play pick-up basketball in our beautiful new Katz Family Pavilion athletics facility. Bring your A-game and up to two friends to show off your hoops skills. Open gym is completely free.
Only persons 18 and over are eligible. Please wear appropriate gym clothing. Waivers must be signed upon entry.
Tuesday: 12/18
Thursdays: 12/6, 12/13, 12/20, and 12/27
LEARN MORE
SIGN UP HERE
Get Your #WiseLights at our Gift Shop
Hanukkah is here! This is your last chance for some new #WiseLights!
Now offering 25% off all menorahs and candles.
The Wise Gift Shop has a wide variety of beautiful Hanukkiyot, colorful candles, dreidels, and more. Check out the full selection and choose a new hanukkiyah to fit your family's style. We also have new, collectible dreidels to either add to your robust collection or kick-start a brand-new one. All talitot are now 25% off too (for members only). The Gift Shop is open on school days from 2-4 p.m. and on Friday nights before and after services. Appointments available: call 310.476.8561.
---
Upcoming Events
Center for Jewish Life presents
Ambassador Ron Prosor in Dialogue with Rabbi David Woznica
AIPAC @ Wise
Tuesday, December 11 at 7 p.m.
This evening Rabbi Woznica will engage Ambassador Prosor on a wide range of topics that both unite and at times divide Israel and the Jewish people outside of Israel, his thoughts about America and the international community, the inner workings of the world of diplomacy and some of his most memorable moments on the world stage. Join us for an evening with one of Israel's most distinguished, articulate, and insightful diplomats.
AIPAC @ Wise is presented by the American Israel Public Affairs Committee in partnership with Stephen Wise Temple.
LEARN MORE AND REGISTER
Center for Jewish Life presents Museums with Mario
Norton Simon Museum
Wednesday, December 12, 2018 | 1:30–3 p.m.
Nestled in Pasadena this museum offers countless moments of aesthetically induced sighs. We will focus on the beautiful Sculpture Garden featuring works by Renoir and Maillol.
Cost (does not include admission):
$15: Stephen Wise Temple Members
$20: General Public
Museum Admission:
$15: payable upon entry to the museum
Parking is free.
REGISTER HERE 
Wise Years
Thursday, December 13
10 a.m. | Registration Begins (note new time!)
10:30 a.m. | Program Begins
Learn from journalist Beverly Magid how women have made a difference throughout history. Longtime Los Angeles public servant Zev Yaroslovsky will discuss his current efforts to measure quality of life in our city. After lunch, play games or enjoy a screening of the 2017 film Bombshell: The Hedy Lamarr Story.
REGISTER HERE
Deadline to order lunch is December 10
Wise Guys Shabbat Hike at Topanga State Park (Musch Trail)
Saturday, December 15 at 8:30 a.m.
Enjoy a Shabbat in nature as Wise Guys meet up for a morning of camaraderie, learning, music, prayer, and fun. Musch Trail to Eagle Rock is a moderate 4.4 mile loop that, according to AllTrails.com, features beautiful wild flowers. Since this hike is a few days after Hanukkah, it's the perfect opportunity to burn off those latkes!
RSVP HERE
Lunch Bunch: Caring for the Stranger
Tuesday, December 18 at 5:15 p.m. | Sanctuary Building
Help our Lunch Bunch care for the stranger by assembling lunches for residents at LA Family Housing's Valley Shelter. Delivery of the lunches will take place on the morning of Wednesday, December 19. Your help is greatly appreciated during the holiday season when many are traveling. To RSVP for Tuesday's food preparation or if you have questions, email Diane Kabat or call 818.981.5485.
Shabbat Dinner Q&A with Senator Robert Hertzberg
Friday, December 21
6:15 p.m. | Services
7:30 p.m. | Dinner
As an ongoing public service series, Stephen Wise Temple will invite elected officials (not currently campaigning) to engage with members in an open Q&A format over Shabbat dinner. In December, our guest for Shabbat will be Senator Robert "Bob" Hertzberg. Afterwards, over dinner, he will hold an open dialogue as a chance to answer pressing questions on the minds of constituents.
REGISTER FOR DINNER
Center for Jewish Life presents
The Other Woman by Daniel Silva: An Exploration
with Rabbi David Woznica
Tuesdays: January 8, 15, 29 | 6:30–8 p.m.
Gabrielle Allon, the protagonist and spy in Daniel Silva's novels, heads Israel's international intelligence and only he can unravel the mystery at the center of this thrilling tale. Those who have read Silva before know how he masterfully weaves his mysteries while taking readers around the world. First-time readers are in for a treat as Allon battles a traitor inside Russia, protects one of Israel's most valuable human assets, and grapples with British intelligence. In this class, readers will share thoughts about the characters while working together to unravel the mystery and, along the way, discovering Jewish messages communicated by the author.
REGISTER HERE
NEW Online Class from Wise Melton School:
The Star and the Crescent: The Long Relationship of Judaism and Islam
Begins Wednesday, January 9, 2019
Jews and Muslims have coexisted, peacefully and and contentiously, for more than a millennium. This course will examine the longstanding relationship between Judaism and Islam, between Jews and Muslims, broadening our understanding and challenging our assumptions.
This class will be held exclusively online. Registrants will receive login information and details.
LEARN MORE
Wise Melton School presents
Community Connections: A Three-Part Series for Early Childhood Parents
Tuesdays: January 15, February 12, March 12 | 7 p.m.
Get to know six Wise rabbis in our three-session series from Wise's award-winning Melton School. This curriculum is specially designed for parents of little ones, based on Melton's Foundations of Jewish Family Living: Jewish Values for Parents to Share with their Children.
No homework. No grades. No tests. Just wine, cheese, friends, and Torah.
LEARN MORE AND REGISTER
Questions? Contact Wise Melton School Director Rabbi Karen Strok.
Housing the Homeless: A Five-Part Series
Thursday, January 24 at 7:30 p.m.
Monday, February 11 at 7:30 p.m.
Friday, February 15 at 7:30 p.m.
Thursday, February 21 at 7:30 p.m.
March: TBA
How is LA housing the homeless in your neighborhood? With over 50,000 homeless citizens on the streets of Los Angeles the voters of our city and county have made the decision to get a significant number of them safely housed in the next several years. Money has been allocated and plans are underway throughout the city to develop a variety of housing alternatives. Every city council district is committed to providing units. How will these decisions effect you? Wise will host a special series to answer questions that you might have about the housing options being considered.
LEARN MORE AND RSVP
---
Community Calendar
Skirball Cultural Center presents
Film Screening: American Creed
Sunday, December 9 at 2 p.m.
What does it mean to be American in these turbulent times? Former Secretary of State Condoleezza Rice and Pulitzer Prize–winning historian David M. Kennedy, representing remarkably different points of view, explore the idea of a unifying American creed. Their spirited inquiry frames the stories of a range of citizen-activists striving to realize their own visions of America's promise across deep divides. Directed by Sam Ball. (2018, 86 min. PG.)
LEARN MORE AND PURCHASE TICKETS
The Los Angeles Jewish Teen Initiative presents
Parenting Teens in a #MeToo World
Tuesday, December 11 | Temple Judea (Tarzana)
Tuesday, December 18 | Temple Emanuel (Beverly Hills)
Facilitated by Alisha Pedowitz, California Director of Moving Traditions, this workshop will give parents tools for how to talk to their teenagers about sex, sexuality, and consent.
LEARN MORE AND REGISTER
---
Lifecycle • Yahrzeits
We remember with love those who died in recent days and weeks:
Eva Chorub, Jesse R. Gross, Judge Louis Marvin Kohn, Betty Lindner, Eugene Monkarsh, Claire Mullen, Joyce Perlstein, Solomon Raymond, Leah Rosenberg, Janis Rouda
We observe the yahrzeits of:
Emma Alexander*, Mamie Bovill*, Abraham Braverman*, Irving R. Cohen*, Rose Cohen*, Lewis Fleet Conant*, Benjamin Feldman*, Saul "Pat" Freedman*, Nellie Geldin*, Frances Glick, Mike Glick *, Harriet Hersch Glickman*, Muriel Gordon*, Sylvia Gram*, Mortimor S. Greenwald, Robert Greenwald*, Isidor Gross*, Theresa Grosse*, Martin Handlin*, Dr. Brian Hill*, Dorothy Jacobs*, Peppa Kahane, Judy Levy Kerzin, Gertrude Klein*, Maurice Kogen*, Leonard Langer*, Ida Latchman*, Ted Levy*, Sol Lipschitz*, Gertrude Marantz*, Melissa Marantz Nealy*, Lilyan Marylander*, Sarah Davidson Morris*, Samuel Neuhoff*, Doris Olden, Lou Olden, Abe Orbuch*, Sylvia K. Ovitz*, Barbara Kay Prober, Jules Robinson*, Robi Z. Robitshek*, Lucille Rosen*, Lillian S. Rubin*, Jack Scapa*, Rose D. Schwartz, Miriam Shain, Sarah Sloan*, Sidney Stern*, Joan Witzman*
*Designated on our memorial walls
Lifecycle • Mazal Tov
Shehechianu Moment
Do you have a milestone birthday or anniversary approaching? We'd like to celebrate your special day on the bima during Friday evening Shabbat Services! Invite your family, join your Wise community, make it a "shehechianu moment" – a time to give thanks for life, health, and the blessings that enable you to reach this great moment in your life. Let us know by emailing Arlene Spiegelman or calling 310.889.2272 and she'll make sure to schedule a date that works for you. We'd love to share your celebration!
Mazal Tov to:
Corie and Michael Koss on the birth of their granddaughter Lucy Joy Koss to proud parents Elisa and Zane Koss.
Rachel Morgan and David Paletz on the birth of their daughter Livia Marin Paletz.
Lifecycle • Tributes
We honor our loved ones, our family simchas, our communal losses through charitable giving. To give in honor or in memory of a cherished family member or dear friend please visit WiseLA.org/Giving.
WISE SCHOOL GENERATIONS ENDOWMENT
IN MEMORY OF:
Judge Louis Marvin Kohn, grandfather of Rachel Goldberg, by Freda Moscowitz
METUKA BENJAMIN SCHOLARSHIP FUND
IN MEMORY OF:
Rose D. Schwartz, by Sam and Rita Schwartz & Family
WISE READERS TO LEADERS
IN MEMORY OF:
Miriam Shain, by Carol and Ed Horowitz
Barbara Kay Prober, by Wendy Prober-Cohen and David Cohen
ANNUAL CAMPAIGN 18/19
IN MEMORY OF:
Nellie Geldin, by Lorraine and Harris Zeidler
Peppa Kahane, by The Kahane Family
YAHRZEIT FUND
IN MEMORY OF:
Frances Glick, by Marshall Glick, Marni Glick and Heather Glick-Atalla
Doris Olden and Lou Olden, by The Caplan Family – Elinor, Howard, Andrea, Matthew and Terri
Ruth Schulcz, by Fred Schulcz and Leah E. Weil
Thank You
We appreciate our wonderful volunteers:
Center for Jewish Life Volunteers:
Susan Firestone
Freda Moscowitz
Barbara Sampson
Nosh Volunteer:
Susan Firestone
Gift Shop Volunteers:
Terrie Baumann
Rochelle Fox
Lori Rubin
Carol Sookman
A Welcoming Community
Have a great idea? Share it with us by submitting it to our online suggestion box.
SUGGESTIONS
Do you want to reach us? 
CONTACT LIST
Are you having a lifecycle event? Or would you like to be added to this email list? 
LET US KNOW
Would you like to get involved? Check out upcoming Temple and School events. 
VIEW CALENDAR




MEMBER
LOGIN
Stephen Wise Temple | 15500 Stephen S. Wise Drive | Los Angeles, CA 90077
Shabbat Shalom
[/fusion_builder_column][/fusion_builder_row][/fusion_builder_container]