Shifra and Puah
by Rabbi Yoshi Zweiback
This week's Torah portion, the last of 2018 and the first of the book of Exodus, tells of Pharaoh's horrible instruction to the midwives, commanding them to kill each Israelite baby boy they deliver. 
In their refusal to carry out the order, in their resistance, is goodness and dignity, compassion and strength. And in their names – may they never be forgotten – is a lesson for us.
READ MORE
Nava Tehila in Concert
Saturday, January 19, 2019 at 8 p.m.
Nava Tehila is a Jerusalem-based community for Jewish renewal, dedicated to creating musical, engaging prayer spaces where people feel comfortable to come as they are. Nava Tehila's musical spiritual leaders generate new prayer modalities, compose new music for prayer, and train Jewish leaders, including rabbis, cantors and students, in the art of musical and innovative prayer leading. Experience a taste of this incredible group of musicians and spiritual leaders at a special performance co-sponsored by our friends at Temple Beth Am. Tickets: $18
BUY TICKETS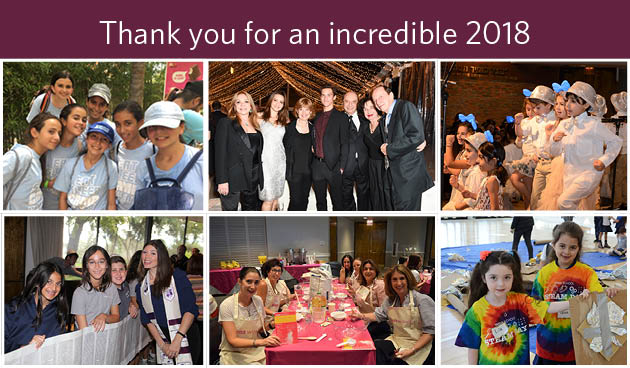 Celebrating Our 2018 Chai-Lights
We are counting down Wise's top 18 Chai-Lights from 2018. Watch our social media feeds as we close out the year and remember some of our favorite moments: from the excitement of the Wise Gala to the madcap raucousness of our Purim Carnival; from our deeply inspiring High Holy Days to our meaningful work to repair the world; and from your special milestone celebrations to your amazing outpouring of support for those in need around the world. What a year! We can't wait to make new memories with you in 2019.
Stephen Wise Temple: Facebook | Instagram
Wise School: Facebook | Instagram
Wise Center for Youth Engagement: Facebook | Instagram
---
Worship
This Week's Torah Portion: Shemot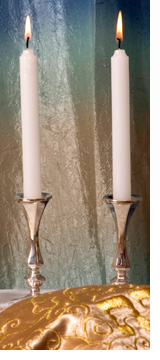 FRIDAY, DECEMBER 28
6:15 p.m. | Shabbat Services | Plotkin Chapel
Led by Rabbi Ron Stern and Cantor Emma Lutz
Watch live on Friday night: Facebook | WiseLA.org
Please note: there will be no pre-service nosh this week.
SATURDAY, DECEMBER 29
9 a.m. | Lay-led Torah Study
10 a.m. | Shabbat Morning Services 
Led by Rabbi Sari Laufer and Cantor Emma Lutz
NEXT WEEK
FRIDAY, JANUARY 4
6:15 p.m. | Shabbat Services | Plotkin Chapel
Led by Rabbi Josh Knobel and Cantor Nathan Lam
SATURDAY, JANUARY 5
9 a.m. | Lay-led Torah Study | Sanctuary
10 a.m. | Shabbat Morning Services 
Led by Rabbi Yoshi Zweiback and Cantor Emma Lutz
Learning Opportunities with Clergy
Bible Study with Rabbi Ron Stern: Monday, December 31 at 9 a.m. | Temple Conference Room
Talmud Study with Rabbi Yoshi Zweiback: Classes will resume in late January
Both classes will resume in late January 2019, dates TBA.
---
Wise Bulletin Board
Wise Melton School Launches Community Connections
Wise's award-winning Melton School is kicking off a special three-part series for parents in our Parenting and Early Childhood Centers. Get to know six Wise rabbis for Torah learning, wine, and cheese through "Community Connections," a program specially designed for parents of little ones, based on Melton's Foundations of Jewish Family Living: Jewish Values for Parents to Share with their Children. "I'm excited to bring this series to our Early Childhood parents," said Melton Director Rabbi Karen Strok, "we have witnessed first-hand how this curriculum creates deeper relationships between parents, kids, and their Jewish experience."
REGISTER HERE
LEARN MORE: CONTACT RABBI KAREN STROK
---
Upcoming Events
Wise Years
Thursday, January 10
10 a.m. | Registration Begins (note new time!)
10:30 a.m. | Program Begins
Learn from Director of the USC Initiative for Israeli Arts and Humanities, Ruth Weisberg, about her experiences as a "Jewish Artist". Then join Los Angeles Times bestselling author, Steven J. Ross, in a discussion of his book Hitler in Los Angeles: How Jews Foiled Nazi Plots Against Hollywood and America. After lunch, play games or enjoy a screening of the 2011 film David.
REGISTER HERE
Ordering lunch online is now available for January through May
Center for Jewish Life presents
The Other Woman by Daniel Silva: An Exploration
with Rabbi David Woznica
Tuesdays: January 8, 15, 29 | 6:30–8 p.m.
Gabrielle Allon, the protagonist and spy in Daniel Silva's novels, heads Israel's international intelligence and only he can unravel the mystery at the center of this thrilling tale. Those who have read Silva before know how he masterfully weaves his mysteries while taking readers around the world. First-time readers are in for a treat as Allon battles a traitor inside Russia, protects one of Israel's most valuable human assets, and grapples with British intelligence. In this class, readers will share thoughts about the characters while working together to unravel the mystery and, along the way, discovering Jewish messages communicated by the author.
REGISTER HERE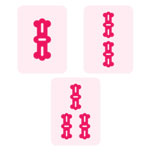 Mahj and More
Wednesday, January 9 at 1 p.m.
Wise members and guests are invited to join other Wise Women for open play: Mah Jongg, Canasta, Bridge, or any other game you'd like on the first Wednesday of each month. Groups or single players and all levels (beginners to experts) are welcome and encouraged! If you have a Mah Jongg set, please bring it along. Snacks and light refreshments served. This is a free event. RSVP required.
For more information on Canasta Lessons please contact Rachel Goldberg (RGoldberg@WiseLA.org, 310.889.2227).
RSVP HERE
NEW Online Class from Wise Melton School:
The Star and the Crescent: The Long Relationship of Judaism and Islam
Begins Wednesday, January 9
Jews and Muslims have coexisted, peacefully and and contentiously, for more than a millennium. This course will examine the longstanding relationship between Judaism and Islam, between Jews and Muslims, broadening our understanding and challenging our assumptions.
This class will be held exclusively online. Registrants will receive login information and details.
LEARN MORE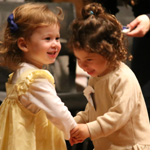 Tot Shabbat and Baby Playdate
Saturday, January 12
9 a.m. | Baby Playdate (12 months and younger!)
10 a.m. | Tot Shabbat Service
Gather together with our community for a festive service! Our Clergy and song leaders lead our music- and story-filled service that introduces the youngest members of our community to the joy of Shabbat. Parents and grandparents will love it too! Special for parents with newborns, we'll have a baby playdate for an hour leading up to Tot Shabbat.
REGISTER HERE FOR BABY PLAYDATE
REGISTER HERE FOR TOT SHABBAT
Wise Melton School presents
Community Connections: A Three-Part Series for Early Childhood Parents
Tuesdays: January 15, February 12, March 12 | 7 p.m.
Get to know six Wise rabbis in our three-session series from Wise's award-winning Melton School. This curriculum is specially designed for parents of little ones, based on Melton's Foundations of Jewish Family Living: Jewish Values for Parents to Share with their Children.
No homework. No grades. No tests. Just wine, cheese, friends, and Torah.
LEARN MORE AND REGISTER
Questions? Contact Wise Melton School Director Rabbi Karen Strok.
Lam Music and Media Center presents
Nava Tehila in Concert
Saturday, January 19 at 8 p.m.
Nava Tehila is a Jerusalem-based community for Jewish renewal, dedicating to creating musical, engaging prayer spaces where people feel comfortable to come as they are. Nava Tehila's musical spiritual leaders generate new prayer modalities, compose new music for prayer, and train Jewish leaders, including rabbis, cantors and students, in the art of musical and innovative prayer leading. Experience a taste of this incredible group of musicians and spiritual leaders at a special performance co-sponsored by our friends at Temple Beth Am.
Tickets: $18
BUY TICKETS 
Center for Jewish Life presents
Museums with Mario
LACMA
Tuesday, January 22, 2019 | 1:30–3 p.m.
Mario will select five pieces on exhibit and drill deep into the desire for "aesthetic arrest."
Cost (does not include admission):
$15: Stephen Wise Temple Members
$20: General Public
Museum Admission: $18: payable upon entry to the museum
Parking $15 per car
REGISTER HERE
Center for Jewish Life presents
Caring for our Elders—And Ourselves: The Status of Senior Care in our Society
with Molly Forrest
Monday, January 28, 2019, at 7:30 p.m.
The gift of aging comes with a new set of challenges that most of us will face in our lives and in the lives of our loved ones. Almost all are unprepared. As our parents and others age, some are in need of care beyond what we can provide. What are the options for our loved ones to continue to stay at home? If it is their preference, is it necessarily wise for them to stay in their homes? What about home caregiving? Should we invite our elderly or infirm parents to live with us? If they are to live outside their home, how do we go about choosing the best facility for them to live out their years? What are the advantages and disadvantages of purchasing long-term care insurance policies for ourselves and our loved ones? What role do Medicare and Medicaid play in our decision?
Molly Forrest is CEO-President of the L.A. Jewish Home, the largest non-profit elderly continuing care community in the Western United States. She oversees an annual budget of $140 million that provides care to 4000 seniors. With 46 years spent in senior services, Ms. Forrest has worked in governmental and for-profit agencies and, for the last 22 years, at the L.A. Jewish Home.
$15: Stephen Wise Temple Members
$20: General Public
REGISTER HERE
Center for Tikkun Olam presents
Housing the Homeless: A Five-Part Series
Thursday, January 24 at 7:30 p.m.
Monday, February 11 at 7:30 p.m.
Friday, February 15 at 7:30 p.m.
Thursday, February 21 at 7:30 p.m.
March: TBA
How is LA housing the homeless in your neighborhood? With over 50,000 homeless citizens on the streets of Los Angeles the voters of our city and county have made the decision to get a significant number of them safely housed in the next several years. Money has been allocated and plans are underway throughout the city to develop a variety of housing alternatives. Every city council district is committed to providing units. How will these decisions effect you? Wise will host a special series to answer questions that you might have about the housing options being considered.
LEARN MORE AND RSVP
Wise School Gala: TLV > WISE 
Saturday, February 2, 2019 at 7 p.m.
Earlybird tickets to the 2019 Wise School Gala are on sale now! Join us for an incredible evening under the Tel Aviv sky as we honor Beth and Bryan Behar, Sherly and Kami Daneshgar, and Orley and Bobby Melamed. You won't want to miss this celebration of our school and honorees, along with cocktails, dinner, DJ, silent auction, and much more! 
Save $50 per ticket by purchasing before December 31! 
BUY TICKETS AND SPONSORSHIPS
Notorious RBG: The Life and Times of Ruth Bader Ginsburg
SKIRBALL CULTURAL CENTER
Tuesday, February 12, 2019 | 12:30 p.m.
Notorious RBG: The Life and Times of Ruth Bader Ginsburg is the first-ever retrospective about the famed associate justice and American cultural icon. It offers a visually rich, entertaining, yet rigorous look at RBG's life and work. Woven throughout the exhibition are excerpts of briefs and other writings by RBG, including some of her most famously searing dissents. In addition, the exhibition also brings to light how her childhood, teachers and professors led her to pursue the law and be so committed to the nation's highest ideals.
Join Wise Women for lunch, followed by a private group tour at the Skirball Cultural Center.
Cost: $36 for Wise Members, includes lunch, admission and group tour. 
This event is for Wise Members only. Unfortunately we cannot offer refunds once registered. 
Event is currently full, yet we are taking names for a waitlist should additional openings become available.  
RSVP HERE 
---
Lifecycle • Yahrzeits
We remember with love those who died in recent days and weeks:
Joseph Frederick III, Judge Louis Marvin Kohn, Darren Neishuler, Joyce Perlstein, Edwin Praver
We observe the yahrzeits of:
Michelle Rae Antignas*, Joseph S. Belmont*, Samuel R. Bergman*, Jessie Berkman*, Alan Bider*, Rochelle Wilson Blank, Bessie Bloomfield*, Rose Susnow Blumenthal*, Eva Brown*, Jacob Cloobeck*, Margot Cohen*, Lena Cytron*, Jean Demsky*, Louis Fineman*, Malka Freedman*, Bess Glickman*, Samuel Morse Golden*, Aaron Gordon*, Jerry Greenfield*, Marlene J. Greenfield*, William E. Heeger*, Ruth E. Kahn*, Ruth Lerr Katz*, Barbara Lynn Kessler*, Louis Klein*, Lucile "Lucy" Kurtin*, Arthur L. Lewis*, Joseph Lipchitz*, Lidia Machlin, Arnold V. Magasinn*, David Markoff*, Patrick Mckenna*, Melissa Marantz Nealy*, Eva Nelson*, Harry Neuman*, Louis Orchow*, Jeffrey M. Petrus*, Abraham Reichenthal*, Jerry Rhodes*, Edythe Myra Robinson*, Sidney Ross*, Al Rothenberg*, H.S. Scott*, Sandor Sigmond*, Dorothy Singer Simon*, Reva Skoll*, Henry Ullman*, Pearl B. Young*
*Designated on our memorial walls
Lifecycle • Tributes
We honor our loved ones, our family simchas, and our communal losses through charitable giving. To give in honor or in memory of a cherished family member or dear friend, please visit WiseLA.org/Giving.
RABBI RON STERN DISCRETIONARY FUND
IN MEMORY OF:
Rochelle Wilson Blank, by John, Beth, Lindsay, and Billy Wilson
RABBI DAVID WOZNICA DISCRETIONARY FUND
IN HONOR OF:
Rabbi Woznica, in appreciation for officiating at their vow renewal, by Shelly and Don Levy
CANTOR NATHAN LAM DISCRETIONARY FUND
IN MEMORY OF:
Jeffrey Michael Petrus, by Marcy and Earl Petrus
AVI EFRAIM GESUNDHEIT FUND FOR MUSIC
IN MEMORY OF:
Laura Chap and Jack Resnick, by Jeff and Linda Resnick
METUKA BENJAMIN SCHOLARSHIP FUND
IN MEMORY OF:
Sidney Ross, by Heidi and Albert Praw
LIFELONG LEARNING ENDOWMENT – CENTER FOR JEWISH LIFE – ANNUAL FUND
IN MEMORY OF:
Lidia Machlin, by Ray and Ada Pivo
JOSHUA A. LEVY SCHOLARSHIP FUND
IN HONOR OF:
Shelly and Don Levy, on their vow renewal, by Richard and Helen Plotin
HOMES FOR HEROES
IN HONOR OF:
Shelly and Don Levy, on their vow renewal, by Elaine Sussman
WISE SCHOOL GENERATIONS ENDOWMENT
IN HONOR OF:
Mazel Tov and Yashar Koach to our Adult B'nai Mitzvah Students:  Jeremy Goldstein, Olivia Gordon, Sheila Kharrazi, Eugenia Rosenthal and Atosa Veiseh, by Dana, Scott and Josh Ehrlich
IN MEMORY OF:
Judge Louis Marvin Kohn, grandfather of Rachel Goldberg, by Dana, Scott and Josh Ehrlich
Darren Neishuler, son of Janis Neishuler-Arslan, by Dana, Scott and Josh Ehrlich
YAHRZEIT FUND
IN MEMORY OF:
Rochelle W. Blank, by Jeffrey Wilson
Samuel Bergman by Sybil Bergman
Thank You
We appreciate our wonderful volunteers:
Center for Jewish Life Volunteers:
Susan Firestone
Freda Moscowitz
Barbara Sampson
Tammy Steinman
Nosh Volunteer:
Susan Firestone
Gift Shop Volunteers:
Terrie Baumann
Rochelle Fox
Lori Rubin
Carol Sookman
A Welcoming Community
Have a great idea? Share it with us by submitting it to our online suggestion box.
SUGGESTIONS
Do you want to reach us? 
CONTACT LIST
Are you having a lifecycle event? Or would you like to be added to this email list? 
LET US KNOW
Would you like to get involved? Check out upcoming Temple and School events. 
VIEW CALENDAR




MEMBER
LOGIN
Stephen Wise Temple | 15500 Stephen S. Wise Drive | Los Angeles, CA 90077
Shabbat Shalom