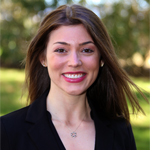 Owning Our Stories
By Cantor Emma Lutz
"Owning our stories and loving ourselves through that process is the greatest gift we can give ourselves."
– Dr. Brené Brown
I fell in love with Judaism by listening to stories. I loved the stories about my great-grandparents coming to this country as immigrants and finding their balance between assimilating into American culture and holding their Jewish heritage close. I adored the mystical stories I heard woven into the liturgical words chanted by my cantor and the wise, midrashic tales taught by my rabbi. And perhaps, most of all, I was fascinated by the stories of Genesis, those sacred struggles and embraces between family and neighbors who, like us, were just trying to figure out how to live together in harmony.
READ MORE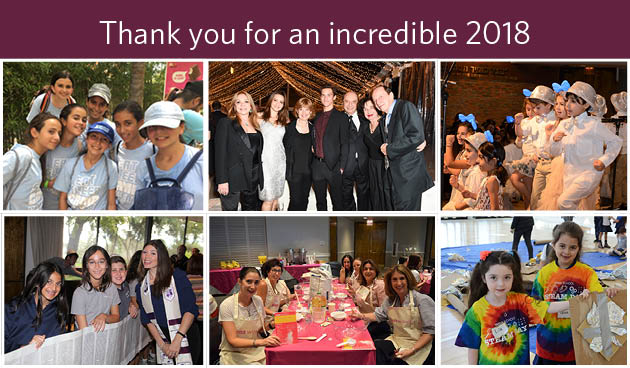 Celebrating Our 2018 Chai-Lights
We are counting down Wise's top 18 Chai-Lights from 2018. Watch our social media feeds as we close out the year and remember some of our favorite moments: from the excitement of the Wise Gala to the madcap raucousness of our Purim Carnival; from our deeply inspiring High Holy Days to our meaningful work to repair the world; and from your special milestone celebrations to your amazing outpouring of support for those in need around the world. What a year! We can't wait to make new memories with you in 2019.
Stephen Wise Temple: Facebook | Instagram
Wise School: Facebook | Instagram
Wise Center for Youth Engagement: Facebook | Instagram
Wise Board Retreat Focuses on Inclusivity, Transformative Ideas
Each year our Wise Board of Directors gathers for a retreat dedicated to an in-depth discussion of big-picture issues and needs facing our community. Board meetings during the year are dedicated to committee reports, financial reviews, and discussions regarding current aspects of the Wise. The Annual Board Retreat is different in that it allows our lay leadership a chance to step back and do some extraordinary visioning work for the future. At this year's retreat, held December 2, the Board focused on the Wise core value of inclusivity, one of the three pillars of our strategic vision and the Wise Way Forward (along with creativity and generosity). Exercises, workshops, and discussions allowed small groups to dive into big questions about how Wise can become a fully inclusive community for members from all walks of life and embrace all kinds of diversity – ethnic, economic, gender, sexuality, age, marital or partnership status, and many more. "The Board Retreat was extremely meaningful and mission critical," said Board President Janine Kolodny. "We reinforced the value each Board member brings to our institution and it was an opportunity for us to hear their voices as we move forward on our strategic vision. In the spirit of inclusivity, it was important for the Board to participate, to share their talents and intellect. We will use this as a springboard as we continue to strengthen and enhance our Wise community in the years ahead."
LEARN MORE ABOUT THE WISE WAY FORWARD
LEARN MORE ABOUT THE WISE BOARD
Final Chance for Board Nominations
Nominations will close soon! Now is the time to submit your name or your recommendation for our 2019/2020 Board of Directors, Congregational Fund Trustees, and Officer positions. The Nominating committee requests that all Board nominee recommendations be submitted in writing to the chair, Steven J. Fishman, prior to December 30, 2018. Please include "2019/2020 Board of Directors" in the subject line of your email to ensure proper delivery. The Nominating committee will evaluate all submissions based on candidate criteria and available openings. Thank you for being committed and passionate members of our community.
EMAIL YOUR NOMINATION
Wise Melton School Launches Community Connections
Wise's award-winning Melton School is kicking off a special three-part series for parents in our Parenting and Early Childhood Centers. Get to know six Wise rabbis for Torah learning, wine, and cheese through "Community Connections," a program specially designed for parents of little ones, based on Melton's Foundations of Jewish Family Living: Jewish Values for Parents to Share with their Children. "I'm excited to bring this series to our Early Childhood parents," said Melton Director Rabbi Karen Strok, "we have witnessed first-hand how this curriculum creates deeper relationships between parents, kids, and their Jewish experience."
REGISTER HERE
LEARN MORE: CONTACT RABBI KAREN STROK
---
Worship
This Week's Torah Portion: Vayigash
FRIDAY, DECEMBER 14
6:15 p.m. | Shabbat Services | Plotkin Chapel
Led by Rabbi Josh Knobel and Cantor Nathan Lam 
Watch live on Friday night: Facebook | WiseLA.org
8 p.m. Soulful Shabbat Service | Sanctuary
Led by Rabbi Yoshi Zweiback and Cantor Nathan Lam 
Please note: there will be no pre-service nosh this week.
SATURDAY, DECEMBER 15
9 a.m. | Lay-led Torah Study
10 a.m. | Shabbat Morning Services
Led by Student Rabbi Bryan Zive
NEXT WEEK
FRIDAY, DECEMBER 21
6:15 p.m. | Shabbat Services
Led by Student Rabbi Bryan Zive and Cantor Nathan Lam
7:30 p.m. Shabbat Dinner Q&A with Senator Robert Hertzberg
REGISTER FOR DINNER
SATURDAY, DECEMBER 22
9 a.m. | Lay-led Torah Study
10 a.m. | Shabbat Morning Services 
Led by Student Rabbi Bryan Zive and Cantor Nathan Lam
Learning Opportunities with Clergy
Bible Study with Rabbi Ron Stern: Monday, December 17 at 9 a.m. | Temple Conference Room
Talmud Study with Rabbi Yoshi Zweiback: Wednesday, January 23 at 12 p.m. | Udko Annex
---
Wise Bulletin Board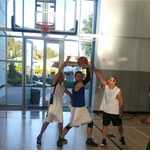 Open Gym — Final 2018 Dates 
Stephen Wise Temple members and staff are invited to play pick-up basketball in our beautiful new Katz Family Pavilion athletics facility. Bring your A-game and up to two friends to show off your hoops skills. Open gym is completely free.
Only persons 18 and over are eligible. Please wear appropriate gym clothing. Waivers must be signed upon entry.
Tuesday: 12/18
Thursdays: 12/13, 12/20, and 12/27
LEARN MORE
SIGN UP HERE
---
Upcoming Events
Wise Guys Shabbat Hike at Topanga State Park (Musch Trail)
Saturday, December 15 at 8:30 a.m.
Enjoy a Shabbat in nature as Wise Guys meet up for a morning of camaraderie, learning, music, prayer, and fun. Musch Trail to Eagle Rock is a moderate 4.4 mile loop that, according to AllTrails.com, features beautiful wild flowers. Since this hike is a few days after Hanukkah, it's the perfect opportunity to burn off those latkes!
RSVP HERE
Lunch Bunch: Caring for the Stranger
Tuesday, December 18 at 5:15 p.m. | Sanctuary Building
Help our Lunch Bunch care for the stranger by assembling lunches for residents at LA Family Housing's Valley Shelter. Delivery of the lunches will take place on the morning of Wednesday, December 19. Your help is greatly appreciated during the holiday season when many are traveling. To RSVP for Tuesday's food preparation or if you have questions, email Diane Kabat or call 818.981.5485.
Shabbat Dinner Q&A with Senator Robert Hertzberg
Friday, December 21
6:15 p.m. | Services
7:30 p.m. | Dinner
As an ongoing public service series, Stephen Wise Temple will invite elected officials (not currently campaigning) to engage with members in an open Q&A format over Shabbat dinner. In December, our guest for Shabbat will be Senator Robert "Bob" Hertzberg. Afterwards, over dinner, he will hold an open dialogue as a chance to answer pressing questions on the minds of constituents.
REGISTER FOR DINNER
Center for Jewish Life presents
The Other Woman by Daniel Silva: An Exploration
with Rabbi David Woznica
Tuesdays: January 8, 15, 29 | 6:30–8 p.m.
Gabrielle Allon, the protagonist and spy in Daniel Silva's novels, heads Israel's international intelligence and only he can unravel the mystery at the center of this thrilling tale. Those who have read Silva before know how he masterfully weaves his mysteries while taking readers around the world. First-time readers are in for a treat as Allon battles a traitor inside Russia, protects one of Israel's most valuable human assets, and grapples with British intelligence. In this class, readers will share thoughts about the characters while working together to unravel the mystery and, along the way, discovering Jewish messages communicated by the author.
REGISTER HERE
NEW Online Class from Wise Melton School:
The Star and the Crescent: The Long Relationship of Judaism and Islam
Begins Wednesday, January 9, 2019
Jews and Muslims have coexisted, peacefully and and contentiously, for more than a millennium. This course will examine the longstanding relationship between Judaism and Islam, between Jews and Muslims, broadening our understanding and challenging our assumptions.
This class will be held exclusively online. Registrants will receive login information and details.
LEARN MORE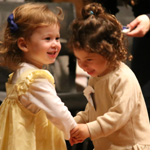 Tot Shabbat and Baby Playdate
Saturday, January 12, 2019
9 a.m. | Baby Playdate (12 months and younger!)
10 a.m. | Tot Shabbat Service
Gather together with our community for a festive service! Our Clergy and song leaders lead our music- and story-filled service that introduces the youngest members of our community to the joy of Shabbat. Parents and grandparents will love it too! Special for parents with newborns, we'll have a baby playdate for an hour leading up to Tot Shabbat, led by Rabbi Sari Laufer and Rabbi Josh Knobel. Service: Recommended for kids up to age 5.
REGISTER HERE FOR BABY PLAYDATE
REGISTER HERE FOR TOT SHABBAT
Wise Melton School presents
Community Connections: A Three-Part Series for Early Childhood Parents
Tuesdays: January 15, February 12, March 12 | 7 p.m.
Get to know six Wise rabbis in our three-session series from Wise's award-winning Melton School. This curriculum is specially designed for parents of little ones, based on Melton's Foundations of Jewish Family Living: Jewish Values for Parents to Share with their Children.
No homework. No grades. No tests. Just wine, cheese, friends, and Torah.
LEARN MORE AND REGISTER
Questions? Contact Wise Melton School Director Rabbi Karen Strok.
Center for Jewish Life presents
Museums with Mario
LACMA
Tuesday, January 22, 2019 | 1:30–3 p.m.
Mario will select five pieces on exhibit and drill deep into the desire for "aesthetic arrest."
Cost (does not include admission):
$15: Stephen Wise Temple Members
$20: General Public
Museum Admission: $18: payable upon entry to the museum
Parking $15 per car
REGISTER HERE
Center for Jewish Life presents
Caring for our Elders—And Ourselves: The Status of Senior Care in our Society
with Molly Forrest
Monday, January 28, 2019, at 7:30 p.m.
The gift of aging comes with a new set of challenges that most of us will face in our lives and in the lives of our loved ones. Almost all are unprepared. As our parents and others age, some are in need of care beyond what we can provide. What are the options for our loved ones to continue to stay at home? If it is their preference, is it necessarily wise for them to stay in their homes? What about home caregiving? Should we invite our elderly or infirm parents to live with us? If they are to live outside their home, how do we go about choosing the best facility for them to live out their years? What are the advantages and disadvantages of purchasing long-term care insurance policies for ourselves and our loved ones? What role do Medicare and Medicaid play in our decision?
Molly Forrest is CEO-President of the L.A. Jewish Home, the largest non-profit elderly continuing care community in the Western United States. She oversees an annual budget of $140 million that provides care to 4000 seniors. With 46 years spent in senior services, Ms. Forrest has worked in governmental and for-profit agencies and, for the last 22 years, at the L.A. Jewish Home.
$15: Stephen Wise Temple Members
$20: General Public
REGISTER HERE
Housing the Homeless: A Five-Part Series
Thursday, January 24 at 7:30 p.m.
Monday, February 11 at 7:30 p.m.
Friday, February 15 at 7:30 p.m.
Thursday, February 21 at 7:30 p.m.
March: TBA
How is LA housing the homeless in your neighborhood? With over 50,000 homeless citizens on the streets of Los Angeles the voters of our city and county have made the decision to get a significant number of them safely housed in the next several years. Money has been allocated and plans are underway throughout the city to develop a variety of housing alternatives. Every city council district is committed to providing units. How will these decisions effect you? Wise will host a special series to answer questions that you might have about the housing options being considered.
LEARN MORE AND RSVP
Wise School Gala: TLV > WISE 
Saturday, February 2, 2019 at 7 p.m.
Earlybird tickets to the 2019 Wise School Gala are on sale now! Join us for an incredible evening under the Tel Aviv sky as we honor Beth and Bryan Behar, Sherly and Kami Daneshgar, and Orley and Bobby Melamed. You won't want to miss this celebration of our school and honorees, along with cocktails, dinner, DJ, silent auction, and much more! 
Save $50 per ticket by purchasing before December 31! 
BUY TICKETS AND SPONSORSHIPS
---
Community Calendar
The Los Angeles Jewish Teen Initiative presents
Parenting Teens in a #MeToo World
Tuesday, December 18 | Temple Emanuel (Beverly Hills)
Facilitated by Alisha Pedowitz, California Director of Moving Traditions, this workshop will give parents tools for how to talk to their teenagers about sex, sexuality, and consent.
LEARN MORE AND REGISTER
---
Lifecycle • Yahrzeits
We remember with love those who died in recent days and weeks:
Eva Chorub, Judge Louis Marvin Kohn, Joyce Perlstein, Edwin Praver, Leah Rosenberg, Janis Rouda
We observe the yahrzeits of:
Warren Ford Ackerman*, Phyllis Angrisane*, Laura Barnett*, Hal Baron, Michael Edward Baser*, Jack Bergman*, Henry E. Burke*, Gertrude N. Caine*, Evelyn Caplan, Charles C. Cohen*, Sylvia E. Crasnick*, Joan Edelson Danney*, Sandra Ethel de Castro*, Rose Dorfman, Leonard Eisenberg, Bernard Ellenson, Jerry Esten, Irene Faguet*, Howard Fern*, Dr. Harold Gilman, Bessie Melnick Ginsburg*, Margaret Gordon, Armand Heskovic*, Dr. Samuel J. Hoffman*, Julius H. Jacobs*, Monroe Jasper*, Pauline Klein, Irving B. Kroll*, Joseph Lerner*, Sheldon Levine*, Benjamin Maiten, Jack Moscowitz, Lillian Pollock*, Arthur H. Rogan*, Morton Jacob Rolnick, Faith Louise Rosen*, Morton Rosen, Sara Rosenblatt*, Lillian S. Rubin*, Rose Sachnin*, Jaleh Salemnia, Regina Lieberman Schonfeld*, Miriam Shain*, Sol Shain*, Ira Lee Solovey*, Jacob Soloway, Renee Sprecher*, Carolyn Starkman*, Caryl Sunshine Hillelson, Marvin G. Swartz*, William W. Tamkin*, Norma Tendler*, Irving Tuch*, Stanley Wachtell, Sally Warshawsky, Herman L. Weiner, Julius R. Wolf*, Jerry Yavitz*
*Designated on our memorial walls
Lifecycle • Condolences
We reach out as a community and offer our support and deepest sympathy to those among us who are mourning the loss of a loved one.
Tori Praver on the loss of her grandfather Edwin Praver.
Lifecycle • Tributes
We honor our loved ones, our family simchas, our communal losses through charitable giving. To give in honor or in memory of a cherished family member or dear friend please visit WiseLA.org/Giving.
RABBI YOSHI ZWEIBACK DISCRETIONARY FUND
IN MEMORY OF:
Claire Love, by Ira and Robin Pianko
RABBI RON STERN DISCRETIONARY FUND
IN MEMORY OF:
Claire Love, by Ira and Robin Pianko
RABBI DAVID WOZNICA DISCRETIONARY FUND
IN HONOR OF:
Rabbi David Woznica, with our thanks for officiating at the memorial service of Pep Kranitz by Madeline and Ephraim Kranitz
IN MEMORY OF:
Claire Love, by Ira and Robin Pianko
RABBI JOSH KNOBEL DISCRETIONARY FUND
IN MEMORY OF:
Claire Love, by Ira and Robin Pianko
RABBI ELI HERSCHER DISCRETIONARY FUND
IN MEMORY OF:
Claire Love, by Ira and Robin Pianko
CANTOR NATHAN LAM DISCRETIONARY FUND
IN HONOR OF:
Cantor Lam, with our thanks for bring meaning and joy to the wedding of Jamie Markus and Jason Leavitt, by Marjorie Markus and Scott Friedman
Cantor Lam, by Rod Stewart
IN MEMORY OF:
Pauline Klein, by Ronnie and Michael Kassan
CANTOR EMMA LUTZ DISCRETIONARY FUND
IN MEMORY OF:
Claire Love, by Ira and Robin Pianko
WISE TIKKUN OLAM LEADERSHIP PROGRAM
IN HONOR OF:
Rabbi Ron Stern, with our appreciation, by Warren and Julie Stein
SOCIAL JUSTICE FUND
IN MEMORY OF:
Jerry Esten, by Claudia and Bill Brown
WISE SCHOOL GENERATIONS ENDOWMENT
IN MEMORY OF:
Jack Moscowitz, by Freda Moscowitz
METUKA BENJAMIN SCHOLARSHIP FUND
IN MEMORY OF:
Morton Rosen, by Michele Zwillinger & Family
AVI EFRAIM GESUNDHEIL FUND FOR MUSIC
IN MEMORY OF:
Irving B. Kroll, by Rabbi Leah Kroll
LAM MUSIC AND MEDIA CENTER
IN MEMORY OF:
Claire Love, by Ira and Robin Pianko
MAX HESS LIBRARY FUND EARLY CHILDHOOD
IN MEMORY OF:
Max Hess, by Ronald and Amy Ossip
WISE HEARTS
IN MEMORY OF:
Gertrude Caine, by Sunny Caine
ANNUAL CAMPAIGN 18/19
IN MEMORY OF:
Caryl Sunshine Hillelson, by Randi Sunshine & Family
YAHRZEIT FUND
IN MEMORY OF:
Jacob Soloway and Albert Shumsky, by Ellen Shumsky
Herman L. Weiner, by Mark and Suzy Spitz
Hal Baron, by Estelle Baron
Dr. Harold Gilman, by Peter and Bobbi Feinstein
Leonard Eisenberg, by Audrey Eisenberg and Jerome Eisenberg
Sylvia Gram, by Louis and Shirley Gram
Jaleh Salemnia, by Shawn, Shely and Shantel Salemnia, Homa Chaman, Shahla Shokaran, Jila Ahdoot, & David and Rozita Yacobi
Evelyn Caplan, by Sheila Frost and Rick Shaefer
Stanley Wachtell and Jack Bergman, by Michael Wachtell and Linda B. Wachtell
A very special thanks to all the people who made donations in honor of Rabbi Stern's 20th Anniversary around the time of his anniversary service.  Their messages of mazal tov were posted on the temple website at that time.
RABBI RON STERN DISCRETIONARY FUND
Bill and Lisa Sobel & Penny and Mark Berns
WISE READERS TO LEADERS
Carol and Ed Horowitz & Felice and Doug Williams
SOCIAL JUSTICE FUND
David and Marilyn Williams, Laurie and Ron Behar, Reed Scharff and Bettina Shore, Wendy, Barry, Brandon and Brooke Levin, Lori and Rob Goodman & Family, Bobbi and Hal Delevie, Leah Kroll, Vanessa, Darryl, Stella and Jeremy Frank, Lynn and Les Bider, & Linda and David Salzman
WISE TIKKUN OLAM LEADERSHIP PROGRAM
Sid Lyons, Charles and Isabel Rosenbaum, Charles and Terri Stern, Seema Pollack, Louise, Gene and Ivana Bramson, Seth and Audrey Rosen, Wise Years, David and Marilyn Williams, Howard and Carol Rosen, Richard and Terrie Baumann, Sonia Bordo, Ellen and Gary Michel, Elliot Blut and Donna Butler, Warren & Rose Reid, Laurie & Ron Behar, Hilda and Dan Bergher, Arlene Spiegelman and Justin Van Vlack, Robert and Layla Glassman, Michael Zeldin and Terry Gock, Mitchell and Sharon Hersch and Family, Sunny Caine, Susie and Bruce Goren, Leslie Wright, Joan and Sid Marantz, Freda Moscowitz, Andy & Alexsondra Fixmer, Laurie Crasnick, Ruth and Arnold Colman, The Krolls, Irene and David Smith, Robin and Ira Pianko, Jeff & Stephanie Jacobs, Fran and Ralph Stern, Jon, Susan Samantha, and Carly Berger, Jody and Dan Furie, Heidi and Albert Praw, Amy and Phil Warmflash, Anita, Phil, Lauren & Daniel Wolman, Robert and Debbee Schwartz, Rick and Jodi Kirkbride and Family, Glenn and Carin Freeman, Scott and Dana Ehrlich, Jerald and Sheryl Einziger, Dan, Joy and Ari Stern, Vanessa, Darryl, Stella and Jeremy Frank, Frank Pinkus and Sylvia Ward, Jennifer Smith, Rabbi Don Goor and Cantor Evan Kent, The Eisner's, Linda and David Salzman, Irene and Yoni Boujo, Sussan and Michael Shore, Phil and Jodi Werbin, Farnaz and Robert Neman, Sally and Martin Levine, Allan and Karen Entous, & Linda and Dan Rosenson
Thank You
We appreciate our wonderful volunteers:
Center for Jewish Life Volunteers:
Susan Firestone
Freda Moscowitz
Barbara Sampson
Nosh Volunteer:
Susan Firestone
Gift Shop Volunteers:
Terrie Baumann
Rochelle Fox
Lori Rubin
Carol Sookman
A Welcoming Community
Have a great idea? Share it with us by submitting it to our online suggestion box.
SUGGESTIONS
Do you want to reach us? 
CONTACT LIST
Are you having a lifecycle event? Or would you like to be added to this email list? 
LET US KNOW
Would you like to get involved? Check out upcoming Temple and School events. 
VIEW CALENDAR




MEMBER
LOGIN
Stephen Wise Temple | 15500 Stephen S. Wise Drive | Los Angeles, CA 90077
Shabbat Shalom