Dear friend, 
Once again we find ourselves in mourning, this time facing an unspeakable act close to home in Thousand Oaks. Last week we came together to care for each other, support each other, comfort each other, celebrate our friend and teacher, and bring more Shalom into the world. With help from our extraordinary guest, singer/songwriter Elana Arian, this Shabbat we will again commit ourselves to the values that we hold so dear in our community: inclusivity, generosity, and creativity. 
Once again we need your presence, your voice, your support. 
Won't you join us this Shabbat?
With love,
Yoshi
---
In the Darkness: Rosh Chodesh Kislev
By Rabbi Sari Laufer
Almost a decade ago, Ben and I were lucky enough to spend two weeks in Thailand. As it happened, we arrived at our beach resort on the five year anniversary of the devastating tsunami that destroyed that resort and many others. In keeping with Thai Buddhist tradition, people gathered on the beaches—and beaches all around the region—to release lanterns into the sky. One by one, tourists and locals alike let the lanterns go. Into the sky they went; one became ten, ten became one hundred, one hundred became one thousand. And as we watched, we knew that all over Thailand, these lanterns—and the memories they carried with them—were filling the night sky.
READ MORE
Los Angeles Rabbis and Cantors Gather to Create Song and Video in Remembrance
In the wake of the terrible violence in Pittsburgh, Rabbi Yoshi Zweiback and Rabbi Ken Chasen have worked together to compose a song of remembrance, bringing together extraordinarily talented local cantors (led by Cantor Nathan Lam and Cantor Emma Lutz) to lend their voices. The lyrics are adapted from the beautiful and well-known reading "We Remember Them" by Sylvan Kamens and Rabbi Jack Riemer. As a community we will continue to remember, give honor, pray for the wounded in body and soul and work tirelessly to promote our Jewish values that are diametrically opposed to the hatred, antisemitism, and xenophobia that inspired the attack.
WATCH THE VIDEO
Celebration Honoring Rabbi Ron Stern Raises Over $20,000 for Tikkun Olam Leadership
Last Friday evening we came together as a community to celebrate Rabbi Ron Stern's 20 years of commitment to the Wise community. It was a Shabbat to support each other during a time of tragedy but also to recommit ourselves to changing the world. In Rabbi Stern's honor, we have raised $20,700 so far for our new Wise Tikkun Olam Leadership Program, a fund that will support programs and projects to engage our teens participating in deeper social action experiences. We are truly grateful to everyone in our community who made Friday evening so special and who continue to work together for meaningful social action.
WATCH FRIDAY'S SERVICE
DONATE TO THE TIKKUN OLAM LEADERSHIP PROGRAM FUND
---
Worship
This Week's Torah Portion: Toldot
Shabbat Weekend with Guest Artist-in-Residence Elana Arian
Friday-Saturday, November 9-10
Stephen Wise Temple is excited to welcome singer, composer, and songwriter Elana Arian to visit campus for a special weekend of music and inspiration on November 9-10. She will join Friday night Soulful Shabbat services, bringing her unique and talented voice to our worship. This special Soulful (at an earlier time) will also feature the premiere of the Wise Religious School choir who will accompany Elana, having learned many of her beautiful new melodies for classic songs. We will also welcome Congressman Ted Lieu as our guest to read a special prayer for our country. On Saturday, Elana will co-lead Shabbat morning services with Rabbi Sari Laufer and Cantor Emma Lutz for a prayerful and spiritual musical experience.
FRIDAY, NOVEMBER 9 6:15 p.m. | Soulful Shabbat Services with Guest Elana Arian, featuring the Wise Religious School Choir
7:30 p.m. | Soulful Shabbat Dinner
SATURDAY, NOVEMBER 10
9 a.m. | Lay-led Torah Study
10 a.m. | Shabbat Morning Services with Guest Elana Arian
LISTEN TO MUSIC BY ELANA ARIAN
WATCH VIDEOS
Learning Opportunities with Clergy
Talmud Study with Rabbi Yoshi Zweiback: Wednesday, November 14 at 12 p.m. | Udko Annex
Bible Study with Rabbi Ron Stern: Monday, November 19 at 9 a.m. | Temple Conference Room
---
Wise Bulletin Board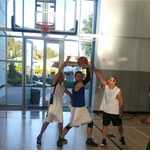 Open Gym Continues with Fall Dates
Stephen Wise Temple members and staff are invited to play pick-up basketball in our beautiful new Katz Family Pavilion athletics facility. Bring your A-game and up to two friends to show off your hoops skills. Open gym is completely free.
Only persons 18 and over are eligible. Please wear appropriate gym clothing. Waivers must be signed upon entry.
Tuesdays: 11/13, 11/20, 11/27, 12/4, NO 12/11, 12/18, and NO 12/25
Thursdays: 11/8, NO 11/15, NO 11/22, 11/29, 12/6, 12/13, 12/20, and 12/27
LEARN MORE
SIGN UP HERE
Send a Wise Hanukkah Gift to Your College Student
Do you have a college kid braving the Boston weather, studying for finals in Seattle, or in need of TLC at USC? Send them a special pick-me-up just in time for the festival of lights! Once again we'll ship out a care package from Wise full of Hanukkah cheer and sugary treats to help them across the fall semester finish line. If you have already given us your child's college address, we'll make sure they'll stay on our list all year. But if not, there's still time to register them for a care package.
SIGN UP HERE
RSVP TO HELP PACKAGE GIFTS (Wednesday, November 28)
Visit the Wise Gift Shop for Your Hanukkah Needs
Hard to believe but Hanukkah is just four weeks away — which means it's time to look into some new #WiseLights! The Wise Gift Shop has a wide variety of beautiful Hanukkiyot, colorful candles, dreidels, and more. Check out the full selection and choose a new hanukkiyah to fit your family's style. We also have new, collectible dreidels to either add to your robust collection or kick-start a brand-new one. All talitot are now 25% off too (for members only). The Gift Shop is open on school days from 2-4 p.m. and on Friday nights after services. Appointments available: call 310.476.8561.
---
Upcoming Events
Hebrew Union College-Jewish Institute of Religion presents
Symposium 2
November 11-12 | Stephen Wise Temple
Join esteemed clergy and scholars from all around the world, including members of our own clergy team, for HUC-JIR's Symposium 2, an engaging exploration of ideas and attitudes. Nowadays, there is "my news" and "your news," "your truth" and "my truth," and consensus about facts is increasingly elusive. Even the university, once the place where young minds pursued "veritas," is more likely today to teach its students the postmodern prioritization of subjectivity over objectivity, discourse over reality, perspective over universal truth. Against this backdrop, HUC-JIR Symposium 2 will explore the various ways in which contemporary Jews grapple with the concept of the truth.
Wise Member discount available.
LEARN MORE AND REGISTER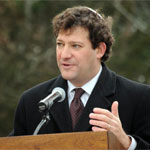 Wisdom of the Sages with Guest Rabbi Neal Gold
Wednesday, November 14 at 12 p.m.
Each week Rabbi Yoshi Zweiback leads an engaging, lively discussion of Talmud during his Wisdom of the Sages class. On November 14 he will welcome guest Rabbi Neal Gold, Jewish Chaplain and Hillel Director at Babson College. Rabbi Gold teaches and writes about Jewish texts, Israel, and intersections between Jewish spiritual life and the contemporary world (read more here). This class is free but your RSVP is requested so that we may prepare accordingly for lunch.
RSVP TO ARLENE SPIEGELMAN
Bet Tzedek Family Preparedness Training
Sunday, November 18 at 11:30 a.m. | Wise Campus
Help families and children in danger of deportation and family separation without any legal background necessary. Many of our congregants have called to ask what they can do to respond to the recent and intensive efforts to deport undocumented individuals. While we cannot physically block the deportation proceedings against those who are undocumented, children often remain behind when their parents are removed from the United States. Thousands of children are at risk of being left without anyone with the legal authority to enroll the child in school or authorize medical treatment if their undocumented parents are removed from the country. Together with Bet Tzedek we are offering a brief training at Wise to the non-legal community so that anyone can assist Bet Tzedek at clinics that are held throughout the city. This meeting is specifically designed for volunteers to assist families by serving as translators, greeters, and supporters at the clinic.
RSVP HERE
CONTACT RABBI RON STERN to learn more
Center for Jewish Life presents Kabbalah: An Elevated Path
with Rabbi Yoshi Zweiback
Tuesday: November 27 | 7-8:30 p.m.
Kabbalah is associated with a range of Jewish mysticism. Interestingly, the word "kabbalah" means "that which is received." In our study we will open ourselves to a higher level of consciousness so that we can look at the world differently—to see God where we may not have seen God before. Ultimately, we study Kabbalah to make ourselves better: kinder, deeper, more aware of our soul. We take this path not only to elevate our thoughts but also in the hope that kabbalah will impact our daily behavior. Join this mystical, yet surprisingly practical, journey toward an elevated and kinder life.
REGISTER HERE 
Monthly Mitzvah with Clergy: Visit the Gentle Barn with Rabbi Yoshi 
Sunday, November 18 at 10 a.m. | Gentle Barn (15825 Sierra Hwy, Santa Clarita)
Hug some cows, give tummy rubs to the pigs, cuddle with llamas, and enjoy a beautiful day teaching kindness and compassion for animals. The Gentle Barn rescues animals from severe abuse and neglect who are too old, sick, or scared to be adopted into homes. The Gentle Barn is a sanctuary to horses, donkeys, cows, pigs, sheep, goats, turkeys, chickens, llamas, peacocks, emus, cats, and dogs. Once rehabilitated, the animals help to give hope and inspiration to children with similar challenges and stories.
Space is limited to 10 guests and a donation of $20 per person is suggested.
RSVP HERE
Pico Union Project presents 5th Annual Faithsgiving
Tuesday, November 20 at 3:30 p.m. | Pico Union Project (1153 Valencia Street, Los Angeles)
Join Rabbi Ron Stern and help represent Wise at this afternoon full of fun, music, and community-building event that brings holiday aid to those less fortunate. You may volunteer your time that day, contribute financial support, or purchase a turkey that will be donated to families in need.
LEARN MORE AND RSVP
Contact: Jennifer Smith.
Center for Jewish Life presents Escaping the Busy Trap:
What Judaism Can Teach Us About How We Spend Our Time
with Rabbi Sari Laufer
Wednesdays: November 28, December 5, 12 | 7–8:30 p.m.
According to researchers from Columbia University, Harvard University, and the University of Chicago, being busy in America is no longer an excuse or a lament—it's a sign of status. Committed to what New York Times columnist Tim Krieder calls "The Busy Trap," many of us careen from commitment to commitment while bemoaning our lack of time and focus. The ancient psalmist, however, teaches us to "number our days wisely, that we may attain a heart of wisdom," while Shabbat and the holiday calendar teach us how to take a step away from time. Join us to explore ancient texts, Jewish ritual, and modern psychological wisdom on how to make more hours in your day, and—barring that—how to make the moments you do have matter even more.
REGISTER HERE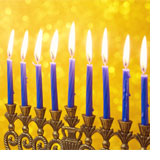 Shabbanukkah 2018
Friday, December 7 at 6:15 p.m.
Our popular festival of lights celebration returns for a Shabbat of music, togetherness, fried foods, and (SAFE) open flames. Be there for our joyous service followed by a special oneg and remember that this event is BYOH (Bring Your Own Hanukkiyah!) so that we can light our lights together as one community.
Center for Jewish Life presents Museums with Mario
Norton Simon Museum
Wednesday, December 12, 2018 | 1:30–3 p.m.
Nestled in Pasadena this museum offers countless moments of aesthetically induced sighs. We will focus on the beautiful Sculpture Garden featuring works by Renoir and Maillol.
Cost (does not include admission):
$15: Stephen Wise Temple Members
$20: General Public
Museum Admission:
$15: payable upon entry to the museum
Parking is free.
REGISTER HERE 
Wise Guys Shabbat Hike at Topanga State Park (Musch Trail)
Saturday, December 15 at 8:30 a.m.
Enjoy a Shabbat in nature as Wise Guys meet up for a morning of camaraderie, learning, music, prayer, and fun. Musch Trail to Eagle Rock is a moderate 4.4 mile loop that, according to AllTrails.com, features beautiful wild flowers. Since this hike is a few days after Hanukkah, it's the perfect opportunity to burn off those latkes!
RSVP HERE
---
Lifecycle • Yahrzeits
We remember with love those who died in recent days and weeks:
Keith Brody, Jesse R. Gross, Jerry Charles Helfend, Myra Hersh, Jonathan Robert Lederer, Jeffrey Linden, Betty Lindner, Claire Love, Eugene Monkarsh, Claire Mullen, Lila Rumack, Sharon Tallarico
We observe the yahrzeits of:
Sanford Binkoff*, Rubin Bird, Trudy Bird, Pearl Borenstein*, Sylvia Cohen, Ramona Micon Delson*, Kenneth Donner*, Isadore Federgreen*, Samuel Flatow*, Ester Friedmann*, Samuel Glassman*, Anna Glick *, Jessie Abromson Goldring*, Ruth Guber, Lolly Horn, George J. Jampolis*, Ruth Joseph, Sylvia Kantor*, Louis Klein*, Elaine Krupsaw, Meyer Lansky, Joshua Levy, Kenneth Levy, Sophie Mann*, Esther Moskovitz, Bertie Nadrich*, Edward Roodberg*, Marcia Ruben*, Eleanor Schultz*, Dr. Tevis Seligman*, Joseph Silberberg*, Eugene Singer*, William P. Sornoff*, Valiant Rudnick Stull*, M.S. "Sunny" Williams*, Hank Wirtschafter
*Designated on our memorial walls
Lifecycle • Condolences
We reach out as a community and offer our support and deepest sympathy to those among us who are mourning the loss of a loved one.
Normie and Melvin Gagerman on the loss of Normie's mother Claire Mullen.
Sylvia Gross on the loss of her husband Jesse Gross.
Ken and Melinda Lindner on the loss of Ken's mother Betty Lindner.
Joshua and Alexx Monkarsh on the loss of Joshua's father Eugene Monkarsh.
Lifecycle • Mazal Tov
Shehechianu Moment
Do you have a milestone birthday or anniversary approaching? We'd like to celebrate your special day on the bima during Friday evening Shabbat Services! Invite your family, join your Wise community, make it a "shehechianu moment" – a time to give thanks for life, health, and the blessings that enable you to reach this great moment in your life. Let us know by emailing Arlene Spiegelman or calling 310.889.2272 and she'll make sure to schedule a date that works for you. We'd love to share your celebration!
To our B'nai Mitzvah — may the Torah guide and inspire you every day of your adult life.
Mazal tov to:
Lora and Rabin Pournazarian on their sons Eli and Jonah becoming B'nai Mitzvah this weekend.
Lifecycle • Tributes
We honor our loved ones, our family simchas, our communal losses through charitable giving. To give in honor or in memory of a cherished family member or dear friend please visit WiseLA.org/Giving.
CANTOR NATHAN LAM DISCRETIONARY FUND
IN HONOR OF:
Cantor Nathan and Donna Lam, for hosting a wonderful evening at your home, by Evy and Marty Lutin
IN MEMORY OF:
Jonathan Lederer, by Linda and Lee Rosenberg
Sylvia Kantor and Ruth Joseph, by Marla and Michael Kantor
WISE SCHOOL GENERATIONS ENDOWMENT
IN HONOR OF:    
Debby and Scott Liebert, on the birth of their grandson, Robby, by Richard and Janine Kolodny
Jessica and Adam Frank, on the birth of Robby, by Edward and Deena Nahmias
CYE SUMMER CAMP SCHOLARSHIP FUND
IN MEMORY OF:
Dr. Tevis Seligman, by Gail and Mike Glick
SHABBAT MINYAN MORNING FUND
IN MEMORY OF:
Rubin and Trudy Bird, by Laurie and Steve Bird
AVI EFRAIM GESUNDHEIT FUND FOR MUSIC
IN MEMORY OF:
Lolly Horn, by Tom Horn
YAHRZEIT FUND
IN MEMORY OF:
Ruth Guber, by Peter and Tara Guber
Meyer Lansky, by Evy and Marty Lutin
Sylvia Cohen, by Bruce and Susan Goren
Sunny Williams, by Sunny Caine
Henry (Hank) Wirtschafter, by Barbara Wirtschafter
Louis (Papa Lou) Klein, by Bea Fisher
CENTER FOR JEWISH LIFE
IN HONOR OF:
Rabbi David Woznica and his wonderful lecture series, by Evy and Marty Lutin
ANNUAL CAMPAIGN 18-19
IN MEMORY OF:
Esther Moskovitz, by June and Murray Bass
Thank You
We appreciate our wonderful volunteers:
Nosh Volunteer:
Susan Firestone
Gift Shop Volunteers:
Terrie Baumann
Rochelle Fox
Lori Rubin
Carol Sookman
A Welcoming Community
Have a great idea? Share it with us by submitting it to our online suggestion box.
SUGGESTIONS
Do you want to reach us? 
CONTACT LIST
Are you having a lifecycle event? Or would you like to be added to this email list? 
LET US KNOW
Would you like to get involved? Check out upcoming Temple and School events. 
VIEW CALENDAR




MEMBER
LOGIN
Stephen Wise Temple | 15500 Stephen S. Wise Drive | Los Angeles, CA 90077
Shabbat Shalom